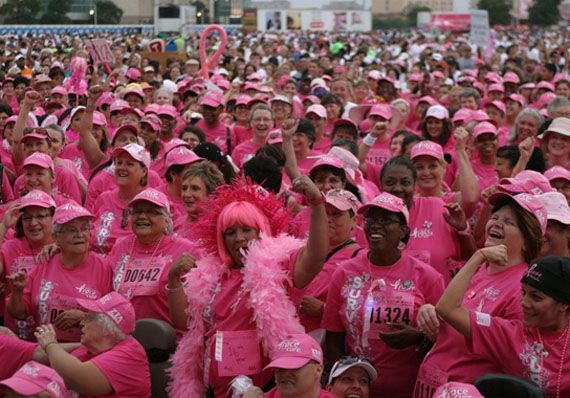 Photo Courtesy of Susan G. Komen Foundation
If certain downtown areas seem to have taken on a rosy glow recently, you're not hallucinating: October is
breast cancer awareness month
and hotels, spas and destinations around the globe are putting on the pink in its honor. Many have committed to raise funds for the cause, creating special promotions and donating a certain percentage of proceeds to Susan G. Komen Foundation (by far the best-known beneficiary) or other breast cancer foundations.
Though we always recommend you ask before splurging on a "PinkTober" package, since some of them are little more than a publicity ploy, there are efforts every year that seem sincere and genuinely philanthropic. Here's a few of our favorites from 2011:

The citizens of New Orleans became famous for their ability to rally, raise funds, and come together for a cause after Hurricane Irene, but it doesn't take a national disaster to inspire this city's irrepressible spirit. The locals take up the pink banner enthusiastically, with several major fundraisers including a Race for the Cure 5K on October 22, a citywide Top Chef fundraiser through October 31, a typically quirky Flamingo Flocking Fundraiser that runs through October 22, and special fundraising packages available at many hotels and other businesses. Get more details at KomenNewOrleans.org.


In the heart of Texas, the Dallas Cowboys channel their enormous brand mojo toward the pink cause, in an annual campaign called "I Promise." T-shirts, hats, water bottles and other special merchandise combines the Cowboys name and logo with the "I Promise" theme. To promote the cause, many of the players wear pink accessories out on the field.


Now in its second year, this campaign started big in 2010 as a $1 million partnership with the Susan G. Komen foundation, and is spearheaded by survivor Charity Aikman (Troy Aikman's mother), and player Bradie James, whose mother was a victim.


It makes sense that the wine industry, which has so many creative, entrepreneurial and philanthropic women within its ranks, would find a thousand little ways to support BCAM. Throughout California, wineries like Peju, Domaine Chandon and J. Lohr have raised tens of thousands for the cause - some by staging annual events like Chandon's annual Pink Party, and some by bottling special wines like Peju Pink.

For those who love wine country and want to contribute in a big way, there are still two days to bid on the "Live in the Vineyard" travel package at AuctionsForHope.org. The package is an all-access, airfare-included, three-day stay in wine country for the Live in the Vineyard music, wine and culinary event, with headline performers including Michelle Branch and Daughtry. Two of the packages are available and all proceeds from this auction benefit the cancer treatment and research programs at City of Hope cancer center. Bidding closes October 20, 2011.

Radisson Blu goes pink physically and philanthropically, with innovative programs and glowing pink decor in properties from Reykjavik to Abu Dhabi to Galway. Although different properties come up with different ways to contribute, this is one example of a brand doing a great job to raise awareness in diverse regions of the world. The Radisson 1919 in downtown Reykjavik is lit up like a multi-story pink beacon for a month, while the Abu Dhabi property is the hub of the Pink-a-thon, a "walk for the cause" that's now in its second year.