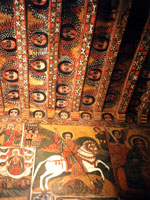 Overview:
First time visitors to Ethiopia are generally amazed by the stunning natural beauty of a country that is also incredibly rich in culture and history. The striking diversity of landscapes, ancient traditions and people leaves a lasting impression to challenge the misleading stereotype of a land stricken by years of drought and famine.
Brimming with contrasts and extremes, Ethiopia beckons visitors to explore from the tops of its highlands, where mountains soar over 14,100 feet (4,300 metres), to the depths of the Danakil Depression situated below sea level; to discover Abyssinian culture and traditions that date back over 3,000 years; to experience ancient Islamic folklore, as well as the fascinating rituals and sacred ceremonies of the Ethiopian Orthodox Church.
Ethiopia is also described as the Cradle of Humanity, home to the oldest human remains in the world, while at the same time its capital Addis Ababa, meaning 'New Flower' in Amharic, is home to the more modern problems of urban migration, where homeless people roam the streets in search of food, money and a better life.
Northern Ethiopia holds the greatest attraction for visitors as one of the country's richest regions for culture, history and natural splendour. The Historic Route takes in the medieval city of Gondar, with more castles, palaces and churches than any other city in Africa; and the ancient capital of the Queen of Sheba and Ethiopia's holiest city, Axum, where the original Ark of the Covenant containing the Ten Commandments is said to rest. Ethiopia's top attraction, however, is undoubtedly the 13th-century rock-hewn churches of Lalibela, among the most incredible man-made structures in the world, revered and renowned among Ethiopians and foreigners alike and the venue for some of the most famous religious festivals in Ethiopia. Taking 24 years to complete, the astounding rock churches are believed to have been created with the help of angels.
The north also boasts the breathtaking Simien Mountains National Park, enc