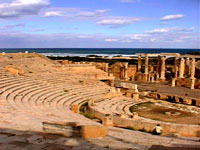 Overview:
*Libya is currently in the aftermath of a civil war that toppled the Gaddafi regime. While fighting in most of the country has ended, safety in Libya is far from certain and all but essential travel to Libya at this time is not advised.
Oil-rich Libya has had a tumultuous history and many have wrestled for control of this fascinating and beautiful land. Tucked between Egypt and Tunisia, and bordering on the Mediterranean Sea, Libya has seen invasions by Turks, Vandals, Byzantines, Romans, Arabs and Italians; only gaining independence in 1951. These various civilisations have left their mark, particularly evident in the striking Roman and Greek ruins at Leptis Magna, Cyrene and Sabratha, though Libya remains quintessentially Arabic - evident in the Medina (old city) of the capital Tripoli, the nomadic lifestyle of desert-dwelling Bedouin and Berber tribes, and the language, culture and customs of the people.
Tripoli, in the northeast, is the country's main port, and is a bustling city dominated by the splendid Assaraya al-Hamra (Red Castle), a large palace complex, as well as the walls and gates of the Medina. Filled with orange groves, grapevines, palms and olive trees, the lush city is home to several interesting mosques, museums and historical sites, as well as modern amenities. Its ideal location on the Mediterranean makes it a popular attraction for locals and tourists alike. Benghazi is Libya's second largest city and is chiefly more modern in flavour, having been all but destroyed during World War II, though one can still enjoy the lively local souqs (markets), and it acts as a good base from which to explore the neighbouring Green Mountain area, as well as several Roman ruin sites along the coast.
Libya is largely an undiscovered tourist destination, due to sanctions imposed on the country through its rocky political history, including participation in several acts of terrorism (including the 1988 bombing of a PanAm flight near Lockerbie in Scotland) and the support by 'Guide of the Re