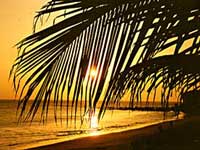 Overview:
Located on the northwestern bulge of Africa, at the continent's most westerly point, the small Republic of Senegal sits on the Atlantic Ocean between Guinea-Bissau and Mauritania, with another country, Gambia, almost entirely enclosed within it.
Its name is said to be derived from the Wolof name for the dugout canoes used by fishermen. Today the brightly painted, specially designed pirogues are at the heart of one of Senegal's main national sports, canoe racing, which takes place along various stretches of the coast. The dugouts are still used by fishermen who navigate the waters of the 250-mile (402km) coastline in the age-old tradition that is the most common activity after farming, and the most important supply of export revenue. Fish is also the main source of protein for the Senegalese who consume the greatest amount of fish in the world, possibly second only to the Japanese.
The sun shines almost all year round on hundreds of miles of beautiful beaches, estuaries, mangrove swamps, savannah and a semi-desert in the north. The Casamance region, a strip of land stretching from east to west across the country below The Gambia, boasts some of the best beaches in West Africa, and is one of the most touristic parts of Senegal, a vision of tropical splendour with lush forests, coconut palm groves, brilliant flame trees and bougainvillea, and warm waters brushing the endless stretches of sandy beaches. Hotels bordering the beaches make coastal Casamance a holiday paradise for visitors. The modern capital city of Dakar, situated on the tip of the Cap Vert peninsula, is a vibrant hive of local and international activity, where businessmen rub shoulders with tourists and traditionally dressed Senegalese amid the confusion of gleaming hotels, cafes, colourful open-air markets and the medina (old quarter). Just two miles (3km) offshore lies Gorée, an island that was the most important slave depot in West Africa between the 16th and 19th centuries.
Not only does Senegal offer seaside resorts, a fasci