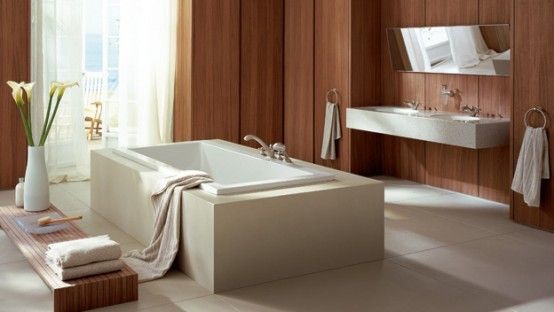 homespace
Looking for smart ways to organize your bathroom? We have some ideas. Read on!
Your bathroom is likely the smallest room in your home. However, this doesn't mean it can't be a comfortable and functional place. All you have to do is spend a little time organizing it. Throw away all the useless products you may have lying around and find creative ways to maximize your storage space.
If you are looking for ways to keep better track of your beauty products and cleaning supplies, we have some advice. Read on.
Clean /Throw Away
The first step towards a better organized bathroom is to unclutter it. Make aninventory of everything you store here, from toiletries to towels and bathrobes. Throw away anything you haven't used in a while. Check the expiration date on medicines and get rid of the expired ones. Merge duplicate, half-used items into just one container.
A lot of people hold on to tiny soaps and miniature bottles of shampoo and conditionerfrom hotels. If you do this, reconsider. You will probably end up throwing them out anyway later on.
Use Baskets and Cosmetic Bags
Baskets and storage bins are excellent for the bathroom. You can stock them one over the other and maximize your storage space. Store products you don't use as often in cosmetic bags. You probably have received some over the years, so don't leave them unused. To store cotton balls, cotton swabs and other small supplies, use jars. You will know when your supplies are low.
Think Vertical
If you're thinking of purchasing another cabinet for the bathroom, consider buying a tower-style shelving unit. It takes up little floor space and provides multiple shelves for storage. Set bins or baskets on some of the shelves. This way, it won't lookcluttered.  If you have enough space, move a bookshelf into the bathroom. You will have extra room for mixing decorative items with useful ones. Consider adding some shelves over the toilet, as this space is often unused. You can even build a storage ladder – it looks stylish and it's extremely functional.
Hang
Any spot of unused wall space can use an additional hook or two. You can hang towels, a storage bag or even jewelry.
Divide drawers
Drawer dividers are an absolute must for the bathroom. They help you efficiently organize all those little items that often get lost and they can be purchased in different sizes.
Whether you live in a tiny apartment or a luxurious condo, transforming your bathroom into a serene and well organized space should be a priority. After all, it's often the busiest room in the house. Good luck!