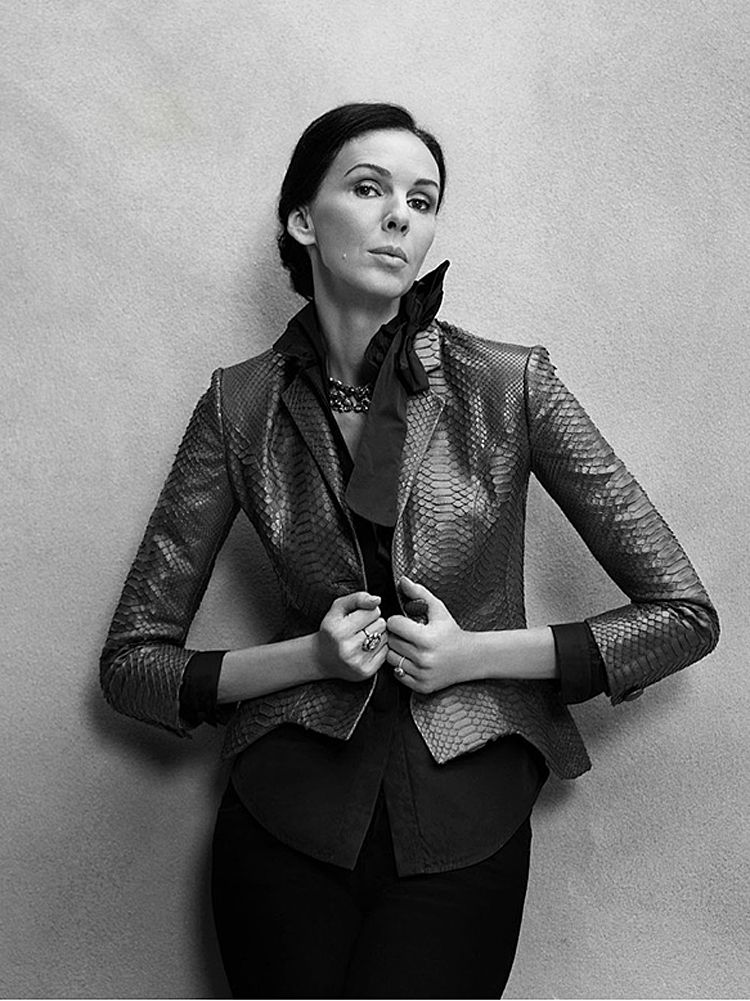 Image Credit L'Wren Scott via Facebook
Today fashion lost one of its brightest stars—designer L'Wren Scott was found dead this morning in her New York apartment. Discovered by her assistant around 10 a.m. this morning, she was reportedly hanged from a scarf that was attached to the door in an apparent suicide—although as of yet, no note has been found. The designer was 47 years old and had been dating rocker Mick Jagger since 2001.
A successful model in the nineties, Scott began her eponymous line in 2006 and quickly became known for her form-flattering dresses and attention to detail. While she had cancelled her runway show this season due to alleged production issues, Scott was a Hollywood favorite, dressing A-list celebrities that included Oprah Winfrey, Nicole Kidman, Michelle Obama, Sarah Jessica Parker, Penelope Cruz and Amy Adams.
"This is a horrible and tragic loss. I'm so upset. I loved L'Wren's work and she was always so generous with me," Madonna told WWD this afternoon. Gaining mainstream popularity in recent years, Scott had just finished a collaboration with Banana Republic over the holidays and her last runway show was a wonderful success. To mourn the passing of this iconic designer, we're taking a look back at some of our favorite moments from L'Wren Scott.
Photos Courtesy of L'Wren Scott
Bois De Boulogne Fall/Winter 2009: While this collection was meant to be an earthy tribute to mother nature, the feeling is far from hippie. Aside from the deep rich colors of green and brown the collection looks almost Edwardian in nature with ruffled neck pieces, velvet jackets and heavily buttoned coats.
Photos Courtesy of L'Wren Scott
Madame Du Barry Spring/Summer 2010: Named after the famed mistress of Louis XV, the collection began with clear insight as to its intention. Sheath dresses, slim-fitting gowns and a plethora of pink left nothing to be desired. It was feminine sensuality at it's finest—a well-known talent of Scott's.
Tuxedo Terrace Fall/Winter 2010: Paying homage to what is essentially formal men's attire, Scott's feminine take on menswear was surprisingly delicate and refreshing while still staying true to its original inspiration.
Photos Courtesy of L'Wren Scott
Tea Time Fall/Winter 2012: Using England from the turn of the century to WWII for inspiration, this collection was a beautiful mix of lush furs, vintage silhouettes and dramatic colors that would make any lady feel as if she was rubbing shoulders with British high society.
Photo Courtesy of L'Wren Scott
Yorkshire Pudding Spring/Summer 2013: Inspired by bold black and white graphics, this collection strayed a bit from the feminine elegance that Scott's fans had come to admire about her designs; but while color and fabrics may have been played down in this collection, it was still as delicate and flattering as ever.
Photo Courtesy of L'Wren Scott via Twitter
Propaganda Resort 2013: War-era propaganda gave Scott the inspiration for this collection which was shown through vintage silhouettes and classic detailing. Creating a set of signature prints Scott sketched them by hand in her studio and even created her own little propaganda film.
Photo Courtesy of L'Wren Scott
Tagasode Spring/Summer 2014: Inspired by the Momoyama period of the late 16th century in Japan, the collection was done with ornate detailing from the embroidered hanging wisteria to the strappy shoes and obi-wrapped kimono dresses.