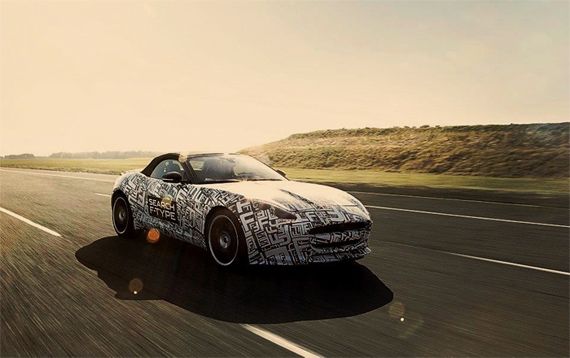 Photo Courtesy of Jaguar
Desire
, the brainchild of Jaguar and Ridley Scott Associates, recently enlisted the talent of Emmy Award winning actor
Damian Lewis
to execute a theatrical promotional film for Jaguar's latest luxury concept. Although well-tailored and of the sympathetic British sort, Lewis is a thinner, rather sloped-shouldered version of your typical action hero?think James Bond meets
The Transporter
. The
Homeland
star works alongside actress Shannyn Sossaman (
A Knight?s Tale
) to help market the highly anticipated
Jaguar F-Type
. The 15-minute promo film incorporates all the elements of a great action movie: betrayal, retribution, passion, greed and of course, a really fast, really sexy car.
While Lewis and Sossaman heat up the screen, it?s the Jaguar F-Type that steals the show, speeding down straightaways and executing flawless hairpin turns. In an effort to extend the hype, the film was released in a series of installments including a ?trailer? and a behind-the-scenes making of the movie. The film also features original music from singer Lana Del Rey, who incorporates scenes from the film into her music video, further working to strengthen the Jaguar's foray into entertainment.
Photo Courtesy of Jaguar
Shot in Chile's Atacama Desert, "delivery man," Clark (played by Lewis) is tasked with delivering the luxury vehicle to a high-profile client. As expected, all plans go awry. Enter stage left beautiful woman, guns and some high-speed desert chases. The script was developed over the course of many months in London with the help of New York marketing agency,
Brooklyn Brothers
and Ridley Scott Associates. But despite the notable directorial and celebrity involvement, the film is all about the Jaguar family's new edition, which Global Brand director Adrian Hallmark believes will help solidify the perception of the brand. Going on sale mid-year, The Jaguar F-Type boasts a shorter wheelbase and will operate with high-output four-cylinder engines after 2015.