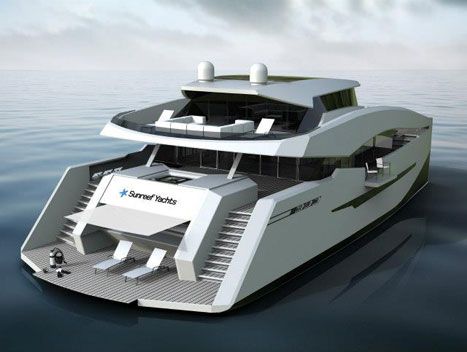 Photo Courtesy of Sunreef Yachts
Embracing our nautical desires has always been a good idea in theory; however, rough waters and little deck space can leave us less experienced sailors feeling a bit uneasy. This is where Sunreef Yachts comes in, as they have employed young and talented designers to design
luxury yachts
meant to give a smoother and more efficient experience.
Celebrating its 10th anniversary in 2012, the design team behind these beautiful catamarans unveiled the 85 Sunreef Power in Cannes, yet another milestone for them in luxury catamaran design. The main idea behind this concept was to arrange the vast space available (found on catamarans thanks to their large beam) and arrange it in a way similar to motor yachts.
This new concept allows for a large main deck, both dining and lounging areas located in the exterior aft deck and inside the saloon, and a large master cabin to create an appealing, open space. The boat also offers a flybridge which includes the helm station, along with an indoor and outdoor lounge area, and an intimate terrace stationed at the front of the main deck.
As far as design goes, this sleek and modern vessel contains curvy lines that give it the look and feel of a sporty motor yacht. There's enough space for 8 guests and 4 crew members, and has a minimalist interior. On the aft, the 85 Sunreef Power has a beach club platform that allows guests to relax at sea level when anchored and at low speeds, which also gives easy access to the water toys and supplies that are stored in the aft dinghy garage.
The 85 Sunreef Power is an innovative concept that is sure to please those looking for an elegant motor yacht design as well as those seeking catamaran advantages, such as stability, extensive living and storage space, comfort while cruising, low fuel consumption, and oceanic range.