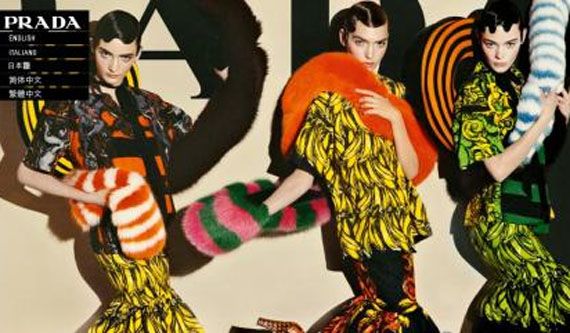 After more than a decade of derailed attempts to go public, Prada finally succeeded in an IPO last Friday. But over the weekend, both analysts and financial pundits were already painting a less than rosy picture of the firm's stock market listing which amounted to $2.1 billion at the
Hong Kong exchange
.
A sweep of the headlines in other leading news outlets produced equally dour results. "Setbacks," "strained," "faltering," "nerve-wracking" and "disappointing" were the sort of words most often used to characterise the deal which saw Prada cut the price of its stock by a whopping 20 percent at the last minute in order to attract investors.
At best, the immediate response from the market could be called lukewarm, thanks to what many blame on bad timing – yet again. This was the fifth time that Prada had tried to float the company.
And although the Hong Kong stock exchange had been arguably the most attractive place for IPOs over the past two years, its benchmark index, the Hang Seng, has been on a downward spiral more recently (for 11 of the past 12 trading sessions). What's more, global markets have taken a beating due to recent political instability and economic volatility around the world.
Another hurdle Prada had to overcome, according to The Independent, was the deterrent of Italian taxes. "Prada's [IPO] was also hit when it warned investors they would have to pay Italian capital gains tax on profits made from selling its shares as well as income tax on dividends at a rate of up to 27 per cent. Private investors in Hong Kong, often active participants in IPOs, do not usually pay such levies."
Bold Move
Although Hong Kong's stock market has come to be seen as "a gateway to both China's growing investor class and its consumer culture...[Prada] is the first Italian and first luxury goods group to list in the city," conceded the BBC
Jesus Seade, a professor of economics at Hong Kong's Lingnan University, told the broadcaster: "Nobody anointed Prada the guinea pig, but they are in the vanguard. If they do well, people will sit and take notice – but if they get burnt, there will be some reconsideration."
In a report by Reuters, the wire service claimed that "Prada's choice of Hong Kong as a listing venue was controversial at home in Italy, but owner and designer Miuccia Prada said last week that the decision was an easy one, given China's relevance as a major economy and its voracious appetite for luxury products."
But if the press were downtrodden about early indications of Prada's stock trajectory and the Hong Kong's stock market's recent health, some analysts were more sanguine about the prospect of floating luxury brands in the city.
"The equity market has its own life and may not have anything to do with reality in luxury goods markets," Selina Sia, head of consumer research at Mirae Asset in Hong Kong, told Reuters. "Luxury demand is very self explanatory and it makes a lot of sense for companies like Samsonite and Prada to list in Hong Kong, but we're talking about quite a volatile market these days."
Brand Awareness
Most analysts agree that the rationale for brands like Prada and Samsonite (which was listed the week before) to choose Hong Kong is about raising brand awareness in China. In the run up to its IPO, Prada hosted a glitzy fashion show for top fund managers in Hong Kong's Grand Hyatt Hotel before presenting them with a speech about booming demand for Prada and luxury goods in general in China.
Of Prada's 319 directly-operated stores, one-third of them are in Asia Pacific and the firm has filed documents stating that it expects to open 70 more in the region by 2014, 30 of which will be in China.
According to the Financial Times, "institutional demand suggested that Prada's [global] expansion plan – which includes opening 80 stores a year until 2014 – was a compelling story. But some analysts doubted whether the aggressive strategy would dilute the long-term value of the brand."
The author continued: "China's wealthy regard premium luxury products as those that involve a waiting list – such as the Herm?s Birkin bag – or only come in limited editions, said Torsten Stocker, of Monitor Group. He warned that by rapidly increasing supply, the Italian brand could lose its appeal among consumers looking for status-enhancing products."
On the Bright Side
In the end, Prada raised US $2.1 billion by pricing its shares toward the bottom of a guide price it had already revised down at least once before, according to anonymous sources in the Wall Street Journal.
But despite the hefty discount, "that values the company at 22.8 times to 24.4 times the Italian company's 2011 forecasted earnings… [which] still gives the company a higher value than Europe-traded rivals such as LVMH Moet Hennessy Louis Vuitton, which trades at 20.1 times, and other rivals, according to Deutsche Bank."
Reuters calculated that the IPO values Prada at about $13 billion, compared to $28.5 billion for Hermes International and $21 billion for PPR, which by most accounts keeps Prada in the running as one of the top luxury players in its category.
And on a personal note, Bloomberg's BusinessWeek estimated that the brand's designer Miuccia Prada, her husband, CEO Patrizio Bertelli, and other family members "will receive about $1.3 billion from the sale, before fees and the exercise of overallotment options, and retain a stake worth $10.7 billion."
All in All
Of course it is far, far too early to make any meaningful corporate conclusions about Prada's IPO but the deal does demonstrate that companies in certain sectors – like luxury – may still be able to fetch stronger valuations in Hong Kong than in other cities. Even though Prada was forced to discount its intended share price, basing its public company in Asia could turn out to be a smart move yet.