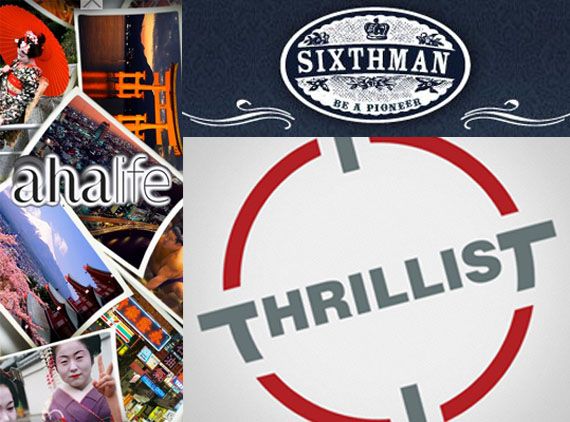 In the era of social media and lifestyle branding run amuck, the "tastemakers" are a highly prized group. They are the ones who can say "This is cool because I say it is," and people will believe them. They get paid to throw parties, based on their guarantee that they "can get all the right people to come." They get jobs as "stylists," "consultants," or "personalities." They
blog
.
While the influence of such tastemakers can be hard to calculate, there is a 1% elite whose success can be measured in dollars. They say, "This is good. Spend your money on it," and people do so — regularly, enthusiastically, and in such quantities as to boost the bottom line for whatever good or service they're endorsing. They are lifestyle curators who build themselves not only into a brand, but into a successful business.

To understand the kind of person who can succeed in such an intangible yet highly competitive field, we chatted with three lifestyle curators who have leveraged personal taste into multi-million-dollar businesses.


Ben Lerer, Thrillist Co-Founder
If Maxim is written for hormone-crazed 18-year-old boys, Thrillist is for the 20-something post-college guys excited to gain "man about town" status. Thrillist provides a daily email dose of what's new, good, and (hopefully) within credit card limits in 19 different cities, and nationally. The writing is always smart, and oftentimes hilarious. The city editors are vigilant in tracking openings and events. And Thrillist knows its audience, and caters to them — sneaking in the occasional aspirational post about a fractional jet service, but always balancing it out with a subsequent post on a food truck.



Both of the Thrillist founders readily admit that when they started the business, they were more in it for the lifestyle benefits than any notion of financial viability. "I wanted to make a change, and work on my own terms," says co-founder Ben Lerer, who started Thrillist after becoming disillusioned with a post-college job working for hotelier Andre Balasz — traveling a significant portion of each month, and pulling the late-night/weekend hours required in the hospitality business. "I had an idea I thought was compelling. But I thought Thrillist would be a hobby, and that I was going to go to business school. I thought maybe Thrillist would help me get in."

That desire notwithstanding, the early Thrillist did not follow any business school golden rules. There was no long-term strategy, no marketing plan, and no real attempt to determine their demographic.



"At first, I was just constantly harassing all my friends, asking them to please email it to all their friends," remembers Lerer. "We weren't very sophisticated about how we developed an audience, but we were tireless in creating great content. And that did the work for us, because we were covering New York in a way other people weren't, and we found an audience of people who appreciated it and educated their friends."

The core New York staff all found Thrillist organically through that friend/reader network. "They all had a passion for what we were doing, and all were very entrepreneurial in their own right," describes Lerer. The process of expanding out to other cities — first Los Angeles, then Chicago, then Las Vegas — was careful and slow, and excruciating when it came to finding staff that would mesh with the Thrillist core team. Yet many of the very first staffers, including Los Angeles editor Jeff Miller, are still with the company today.



Ironically, Lerer never made it to business school, but together with partner Adam Rich, he's built Thrillist into a company that employs 130 people, reports $30 million in revenue in 2010, and reaches three million subscribers daily. While the easiest description used to be Daily-Candy-for-dudes, the company recently diversified with its launch of Thrillist Rewards (exclusive "city insider" experiences, highly discounted, available to Thrillist members only) and purchase of flash-sale fashion site JackThreads.com. Pilot Group, the private investment firm co-founded by former MTV and AOL CEO Bob Pittman, is Thrillist's only investor, and Lerer describes Pittman as a "close friend and advisor."

The key to Thrillist's success may be that, although its founders have admittedly exceeded every dream they ever had for its success, they have not forgotten why they started — or who got them there. While other media groups might throw exclusive parties for celebs and VIPs and let their fans look at the pictures on their website, Thrillist lets as many readers as possible in the door. Looking around this year's Hotel Thrillist party — an annual weekend-long bash for staffers, sponsors, friends and invited readers — it was impossible to tell who belonged to which group. In swim trunks and flip-flops, with a rum drink in one hand and a pool toy in the other, young-money media moguls and MBA students look pretty much the same.


Shauna Mei, AhaLife Founder
With a fashion marketing background and an informed passion for luxury craftsmanship, Shauna Mei is a champion of artisans and a spokesperson for globalization, especially as it applies to e-tail. "The world is becoming more and more global," she says. "America has gone away from everyone eating at McDonald's and wanting to live in a cookie-cutter house."



Born in inner Mongolia and having lived in Beijing, Stockholm and London plus many U.S. cities, Mei is the perfect person to steer consumers away from U.S. cookie-cutter living and toward more globally aware, conscious buying behaviors. Aside from a stamp-filled passport, she boasts a background in fashion and an MIT education in Electrical Engineering/Computer Science. After four years working in high-end apparel, she had her AHA moment during a date, when a casual conversation about sustainability inspired her to change her entire career path.


"The luxury industry is all about convincing a woman to walk into a store, see a $1,000 dollar pair of shoes, and say, I have to have them," she says. "I decided to take all my marketing knowledge and put it toward driving conscious consumption — for people to think before they buy. How is something produced? Where does it come from?"

She founded AHAlife a year ago, with the vision of curating the best on offer for her lifestyle — not just her closet, but also kitchen, home, pet care and beyond. "Most of the e-commerce sites out there are strictly targeted to women. Shoes, handbags, clothing, accessories. But there's so much more to life than just fashion."

With its deployment method or one featured post per day, showcasing a product or service and sent out via email blast, AHAlife seems like a hybrid of Gilt Group and Ideal Bite. But studied closer, it proves to have unique social-media elements and marketing prescience. The featured products are "curated" by influencers in the fashion, food, home and other categories, who make their selections because they believe in products, not because they're being paid an assignment fee.



Consumers can buy products personally recommended by Daniel Boulud or Diane von Furstenburg. And while the basic "Here's one cool item per day" delivery is similar to Daily Candy or Ideal Bite, the availability of the items to purchase on the AHAlife site, conveniently and indefinitely, is a feature that other online "lifestyle curators" lack.

The goal is to "drive a more intelligent consumer," using content, technology and global resources — and after just one year in business, the outlook is very promising. AHAlife just raised another $6 million in investment capital. "We're on a growth track right now," said Mei, just three nights before her 1-year anniversary party in AHAlife's sleek Manhattan loft. "The biggest potential for us is in the global market, and we haven't even scratched the surface."


Andy Levine, Sixthman Founder
Sixthman founder Andy Levine, whose "affinity travel" business reached #87 on Inc Magazine's 2011 Inc 500 list of fastest-growing businesses, flies in the face of big-city trendspotters and influence meters. In a year which saw luxury brands falter and the travel industry continue its nosedive, Sixthman celebrated the tenth anniversary of its Rock Boat — a 4-day themed cruise headlined by none other than Kid Rock — and saw its 311 Caribbean Cruise sell out in five days.



Big city sophisticates might be tempted to laugh: "Oh, those bands are still around?" Indeed. And they're selling out cruise ships. And everyone involved, from the attendees to the artists to the founder, is having an awesome time.

The idea of booking Kid Rock or 311 or KISS or Lyle Lovett to play any event is intimidating. All command hefty fees, though none are currently getting heavy radio rotation. The idea of being financially responsible for booking up a cruise ship is also scary. Put the two together, and it's a challenge most promoters or travel agents wouldn't accept. Sixthman's particular genius lies in knowing which bands can draw people to fill the cruise ship...and then reaching the consumers who want and can afford the concert and the cruise...and then creating such a great experience that those consumers want to come back over and over. And of course, convincing the cruise lines to come in on it.


As a former concert promoter and band manager, Levine was equipped to handle the challenge of finding talent. He was inspired while organizing a cruise for 400 fans of the band Sister Hazel, who he was managing at the time. "I had so much fun, I decided that someone should make a business out of taking bands and fans on vacation together," he says.

And that's what he did, with the inaugural Rock Boat sailing in 2001. He partnered with Carnival cruises — a casual cruise line appropriate for Rock Boat's younger-than-average cruise demographic (or as Levine puts it, a company "crazy enough to let us rent a ship for four days"). He booked bands ranging from unknown to well-known, and billed it as "The World's Greatest Floating Music Festival." And over the years, its reputation grew, and entertainment brands like VH1 and Graceland became event partners, and popular headliners like Kid Rock and Lynyrd Skynyrd warranted themed cruises of their own.

Cruise travel is one of the most popular vacations among all walks of American consumer — some of the main drawbacks being that the typical cruise passengers are either families or retiree-age. Bringing a rock festival onboard automatically changes the demographic. "Our crowd is younger than the normal cruise audience, and they stay up a lot later," says Levine. As far as the vibe onboard, a festival mentality prevails. "You can't meet a stranger, and the artists are doing things they rarely do on tour. It feels like the best days of high school, but you are so much wiser."


According to Sixthman data, 60% of the passengers return year after year, and 10% go on more than one cruise per year. On the Sixthman Facebook, user comments reflect the brand loyalty: "You will never go on a regular cruise after a Sixthman Cruise!" says one poster.

As a way to bring the Sixthman experience to people during a long, dry summer, the company organized a 14-city Summer Road Trip, sponsored by Cabo Wabo, all shows free to attend. A savvy marketing campaign in a raucous rolling party bus, it carried the Sixthman sound to Philly, Chicago, St. Louis and beyond, getting people pumped up for their next adventure — whether that be October's KISS Kruise or a January cruise with Weezer and special guests Dinosaur Junior.

Recession or no, it's inspiring to see a winning concept built on, in the founder's words: "putting the world aside for a few days, to create moments that rock."  

Photos courtesy of Thrillist, AHAlife, and Sixthman