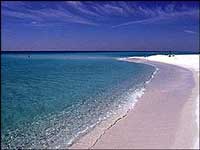 Pensacola Overview
Pensacola, close to the Alabama state border on the Gulf coast, is yet another of Florida's resort Meccas; but instead of theme parks and excitement, the city relies on real history and natural attractions to draw the crowds and the ambience is relaxed and laid-back among fountains and parks.
Ancient Native Americans left their mark here around the natural deep-water harbour, before European settlement arrived in 1559, in the form of a group of Spanish colonists. It was the start of a long rivalry for control of the port, with France, Great Britain, the United States and the Confederacy battling it out over the years, leaving the city with a blended architectural legacy ranging from Spanish brickwork and French wrought-iron balconies to Victorian mansions. Pensacola also now boasts the Seville Historic District to showcase its heritage, containing treasures such as Florida's oldest church. With plenty of interesting history, the city also has a noteworthy Historical Museum.
Apart from ancient history, Pensacola is known for its current stars, the Blue Angels precision flying team of the US Navy, who are based here and hold thrilling exhibitions. The US Naval Air Station is situated to the west of the city and also boasts the National Museum of Naval Aviation.
In and around Pensacola powdery white sandy beaches abound along the coastline and on the Gulf Islands, particularly at Perdido Key and Pensacola Beach with their luxury resorts. The coast and islands are a paradise for fishermen, and 'foodies' will enjoy the plentiful local oysters.