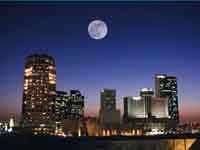 Phoenix Nightlife
Truly a desert oasis, the nightlife in Phoenix is always lively. Although the city is known for being fairly spread out, there are plenty of restaurants, bars and nightclubs in the downtown area to entertain any visitor looking for a party.
Downtown Phoenix is home to several large performing venues, including the Herberger Theater Center, Symphony hall, and US Airways Center and Chase Field. While the latter are actually sporting venues, they host large concerts and events throughout the year. Central Phoenix comes alive after these venues finish, with most spectators heading to nearby sports bars or clubs.
Another nightlife hotspot in Phoenix is Scottsdale. This suburb is too far out of town if you don''t have a car, but those with transportation will find a number of lounges and clubs frequented by fashion-conscious partiers along Stetson Drive in the Old Town area.
Tempe is another suburb with a busy nightlife scene. Trendy Mill Avenue is a great place to see live music in Phoenix, and is populated by often rowdy college students from Arizona State University.