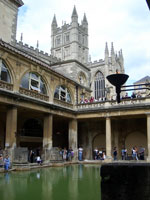 Bath Shopping
A day of shopping in the historic city of Bath is a fabulous experience for any shopaholic as the city''s streets are lined with a fantastic selection of thousands of small independent shops, trendy boutiques, and larger retail outlets, providing plenty of unique shopping opportunities and something completely different to the rest of England.
Stroll across the Pulteney Bridge to enjoy looking through the store windows along Britain''s only shop-lined bridge, where specialist stores can be perused and you can even stop off for a bite to eat at one of the cafés or restaurants that line the bridge. The newly-built Milsom Place is a fabulous shopping centre that stocks all the designer names such a MaxMar and Cath Kidson can be found as well as everything from stylish clothing and accessories to jewellery and gifts can be found. Stall Street and Milsom Street in the Southgate shopping area are the places to go for main chain stores, as is Union Street close to Northgate Street, while Walcot Street shops are the place to go for jewellery.
Margaret''s Buildings, near the Royal Crescent, is also a popular shopping area where many boutiques and designer outlets can be found. Green Park Station hosts the Bath Farmers market on Sundays where fresh local produce can be bought, while the Bath Flea Market also takes place on Walcot Street on Sundays where books, clothing, leather goods, antiques, hats and fine cheeses can be found. Great souvenirs in Bath include bottled Bath water, Bath monopoly sets and wonderful clocks and bowls made from Bath stone, which all make wonderful gifts. Most shops in Bath are open seven days a week from 9am to 5.30pm, but on Sundays most shops close a little earlier.