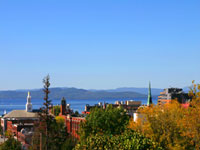 Burlington Overview
Situated in Chittenden County, Burlington is Vermont's biggest city and is a lively, yet laid back place with plenty to see and do. Ideally located on Lake Champlain's eastern shore between the Adirondack and Green Mountains, the city boasts galleries, museums, historic architecture, top-class shopping and a host of outdoor activities.
Originally one of the leading ports in the country with steamboat traffic on the lake boosting the local economy, the city was also the site of an important military hospital and army post during the War of 1812. Burlington continues to be voted one of the top cities to live in the USA and has a friendly, college-town atmosphere, which draws an estimated four million visitors a year.
Attractions in the city range from visits to the historic home of military leader and philosopher Ethan Allen to the ever popular Church Street Marketplace, cruises on Lake Champlain, and a visit to the Lake Champlain Chocolate factory for a free sample. An excellent way to make the most of the city's beautiful views is to hire a bicycle and follow the Waterfront Bike Path, a 7.6-mile (12km) route that runs from Oakledge Park at the southern end of town to the northern end at the beautiful Winooski River.