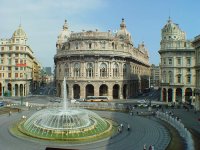 Best Restaurants in Genoa
Among the many delights that Italian cuisine has brought to the world, Genoa can claim two as its own: the city was the birthplace of pesto sauce, traditionally made from herbs, olive oil and pine nuts. It is used in abundance on pizzas and pastas in Genoa, so there are plenty of opportunities to sample Genovese varieties.
The other invention now known worldwide is foccaccia, a kind of flat oven-baked bread topped with olive oil and white wine (or whatever you want to pile on). Foccaccia is staple fast-food in Genoa - a relatively filling and cheap snack to grab on the run.
There are many excellent restaurants in Genoa. Many charge a fixed rate per person, and are open from 12:30 to 3pm for lunch and 7:30 to 10pm for dinner; however, you''ll find many cafes and trattorias that stay open in the afternoon. The Old Town area of the city has many good restaurants (like Trattoria Sa Pesta), and there''s also a good selection in Porto Antico, down by the harbour.