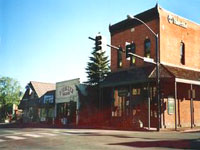 Ketchum Overview
In 1935, a Union Pacific Railway chairman set out in search of the perfect spot for a grand American resort, modelled after the magnificent ski destinations of Europe. His quest ended just outside the tiny mining community of Ketchum, Idaho, population 100. One year later, Sun Valley, a place to 'rough it in style', was opened to the public. It immediately gained glamorous regulars like Clark Gable, Gary Cooper and Ernest Hemingway, who eventually settled in Ketchum.
Today, the area continues to attract high-profile guests, and it certainly offers its fair share of sophistication and urban chic. But the impression left on visitors is rather different; it is perhaps what keeps them coming back year after year, or even what motivates them to make the area their permanent home. Sun Valley and Ketchum have retained their small-town charm. Residents, whether millionaires or ski bums, are first and foremost lovers of the outdoors. The emphasis here is on attitude rather than appearance. Standing at the edge of the pristine wilderness of the Sawtooth National Recreation Area, with the jagged peaks of the Smoky and Pioneer Mountains in the distance, certainly puts pomp into perspective.
And, of course, with Bald Mountain, considered by many to be the single best ski mountain in the country, beckoning, time spent on showiness is slope time wasted. 'Baldy' is equipped with 13 lifts sending skiers up 3,400 vertical feet (1,036m) to a summit altitude of 9,150 feet (2,788m). Known for its incredibly light and fast snow, the mountain boasts varying terrain, from glades and bowls to bumps and groomers.