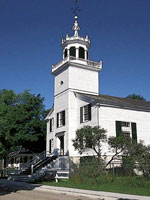 Mackinaw City Overview
Mackinaw City, situated in Michigan's Cheboygan County at the top of the state's Lower Peninsula, is linked to the Upper Peninsula by one of the world's longest suspension bridges. The city has become Michigan's most popular vacation destination, offering many attractions and acting as a gateway to the scenic Upper Peninsula with its hiking trails, state parks and recreation areas, and sandy beaches.
The city itself has a rich history, having been first settled after French explorer Jean Nicolet negotiated with the local tribes in 1634. It became a fur-trading post and later the site of a busy fort and trading store. By 1882 the settlement had become a flourishing town; today it is a shopping destination, offering many unique stores and restaurants lining its main street and boasting more than 50 hotels and holiday resorts. Regular ferry services connect the city with historic Mackinac Island just offshore.