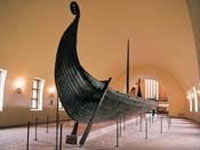 Oslo Overview
Legends of heroes, trolls and princesses roaming the countryside outside this charming city attract many travellers looking for a Scandinavian holiday. Oslo, situated at the end of a 70-mile (110km) long fjord, is Norway's capital and its largest city, rich in culture and folklore with a fascinating Viking history.
Oslo is an eclectic mix of old medieval buildings, churches and modern architecture, sitting among the green trees and extending forests that form the natural balance of nature and civilization. Around the city there are numerous museums, art galleries and places of interest, especially the Edvard Munch Museum and the Norwegian Folk Museum on the sought after Bygdøy Peninsula. Other attractions include Vigeland Park with its interesting collection of sculptures, and the medieval Akershus Fortress dominating the seafront.
Although Oslo has small population compared to other European capital cities, it retains a true vibrancy about it. The city centre is filled with restaurants, bars, cafes, clubs and theatres and has a very cosmopolitan feel to it with street artists hanging around the main street, Karl Johans Gate. Oslo is renowned as a city of culture and the City Hall hosts the annual awarding of the Nobel Peace Prize.