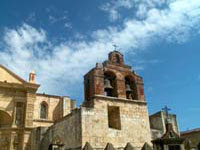 Santo Domingo Overview
If any city in the world could be declared the perfect holiday destination, then Santo Domingo would probably be a prime candidate, with its modern sophistication, old world charm and Latin charisma, not to mention its position on the tropical southern Caribbean coast of the Dominican Republic. The only blight on the landscape is the crime rate: robbery, muggings and petty theft are common, so guard your belongings with care.
Santo Domingo is used to being first: it was the first European settlement in the New World; it boasts the western hemisphere's first cathedral, first monastery, first hospital, first university and first law court. This rich colonial heritage, sparked off in the 15th Century by legendary Spanish explorer Christopher Columbus, has been turned into a UNESCO World Heritage Site in the heart of the city. Known as the 'Colonial City' it is now a delightful area of cobblestone streets and 16th-century buildings, interspersed with cafes, bars, small hotels and restaurants.
Visitors don't need to stray from the Colonial City to enjoy a great time in the city, but it is advisable not to ignore the modern part of Santo Domingo. The superb shopping, delicious dining, dazzling casinos, seductive parks and vibrant nightlife all beckon enticingly, from the monumental Columbus Lighthouse right down to the depths of the Guácara Taina nightclub, with its multi-level dance floors housed inside a real cave. And an opportunity to visit to the Estadio Quisqueya, to watch a game of the Dominican Republic's adored national sport, baseball, shouldn't be passed up on by any visitor to the city between the months of October and February.