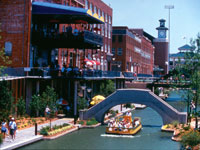 Oklahoma City Overview
Oklahoma City, the state capital, quite literally sprang up out of nowhere. On 2 March 1889, the US government held a major land run in Oklahoma. The area, initially reserved as Indian Territory, would be settled by those who were quick enough to grab plots when the noon cannon fired. (Or by those who managed to creep across the starting line beforehand, giving Oklahomans their current nickname, Sooners.) Shortly afterwards, 10,000 people had staked claims around a small train station, and the city was born. This boom-town atmosphere continued when oil was discovered in Oklahoma City in the 1920s. History buffs should plan a visit to the Oklahoma State Capitol, the only one in America with a working oil well on its grounds.
Oklahoma City's growth has been a point of contention at times. Today, it stretches across more than 600 square miles (965 square km), one of the country's major perpetrators of urban sprawl. In recent years, however, the city has been working to reinvent itself, focusing on downtown revitalization with great success. Most attractions of interest to tourists are located in the inner city districts, beginning with Bricktown, which is bounded by one of the country's premier minor-league ballparks, home of the RedHawks. Once a clump of old warehouses, Bricktown is now a vibrant collection of trendy condos, shops, restaurants, bars and clubs situated along a picturesque canal. Here visitors can satisfy their every craving for hardy American fare like steak and barbecue ribs. Those in search of a more exotic meal should head to the Asia District. Believe it or not, Oklahoma City has a significant Vietnamese population, and a growing number of Asian residents of other cultures. The Paseo Arts District, built in the 1920s, also boasts a few upmarket cafés and cocktail lounges, though its galleries and studios are the main draw. Modelled after a Spanish village, its clay roofs and stucco walls house paintings, pottery, stained glass works, jewellery and unique furniture.
Culturally, Oklahoma City tends to be conservative. Visitors hoping for the vibe and openness of coastal cities may be disappointed, but the city's values do have a big bonus: family-friendliness. Oklahoma City has plenty of fun attractions for children and families. Its parks system is one of the most extensive in the country, and its three nearby lakes are lovely spots for camping, fishing and watersports. Stockyards City, right downtown, is the largest stocker/feeder cattle market in the world, where visitors can watch live auctions, shop for authentic Western attire and sample stick-to-your-ribs food. Oklahoma City is known as the 'Horse Show Capital of the World', and the city's many equestrian events as well as its multiple museums make for enjoyable family outings. Oklahoma has been said to inspire nostalgia, and its capital city is no exception. Watching the weekend regattas at Lake Hefner in the summer, and ice-skating in the winter under Christmas lights at Bricktown's outdoor rink, are memories families will not soon forget.