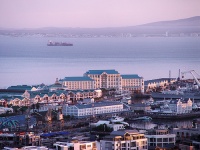 Best Restaurants in Cape Town
One of the many attractions of Cape Town is the quality and variety of restaurants in and around the city, which by international standards remain fantastic value. As well as a wide variety of international fare, there are numerous restaurants offering local Cape Malay dishes and traditional African cuisine, while seafood (especially sushi) is also extremely popular. Fine diners and families with young children will find they are equally well catered for.
Camps Bay and the Waterfront have a wide variety of restaurants, but many of the better ones are outside these tourist hotspots. The town of Franschhoek, 40 minutes outside Cape Town, is known as the gourmet capital of South Africa with plenty of first-rate restaurants, while many of the wine farms in Constantia and around Stellenbosch have fantastic restaurants for long lunching accompanied by a bottle of the superb local wine.
Visitors to Cape Town during the winter months should take advantage of "winter menus" offered by most restaurants - these are astoundingly good value deals, often packaged as a tasting menu of five courses or more.
Restaurants in Cape Town usually add a 10-15 percent service charge to tables of six or more; otherwise waiters expect a tip of 10-15 percent for good service. Recent legislation has banned smoking on all restaurant premises.
For a comprehensive list of restaurants in Cape Town check out
Rafikis
Courting the young and hip market, Rafiki's in a lively restaurant overlooking Kloof Nek Road in Tamboerskloof. Offering pool tables, televisions, and a good selection of beers on tap, this place is just as popular for its vibe as for its delicious pizzas and burgers. It gets crowded on weekends when you may find live bands or deejays making music on the balcony, so go early or book ahead.




CUISINE:

Pizzeria


STYLE:

Trendy


Address:

13 Kloof Nek Road, Tamboerskloof


Website:

www.rafikis.co.za
Myoga
Myoga is a trendy and stylish Cape Town restaurant that has diners enjoying the finest in contemporary fusion cuisine in a friendly, laid-back atmosphere. Speciality dishes include the caramelised pear and walnut gorgonzola and the seared ostrich with mango and fynbos honey. Open Monday to Saturday for lunch and dinner; reservations essential.




CUISINE:

Fusion


Address:

Colinton Road, Newlands


Website:

www.myoga.co.za
Tobago's
With its prime location near the Greenpoint Stadium, Tobago's restaurant in the Radisson Blu Hotel is a wonderful venue for visitors to enjoy a long luxurious lunch or dinner. Diners are offered a wonderful selection of meals from the restaurant's world-class menu, or a vast buffet to choose from, and can enjoy their meal in the stylish dining area or outside on the beautiful waterfront terrace.




CUISINE:

International


Address:

Beach Road, Granger Bay


Website:

www.radissonblu.com/hotel-capetown/dining/restaurant
Kyoto Garden Sushi
Adored by locals and run by a passionate American restaurateur, Kyoto Garden Sushi is one of Cape Town's most popular sushi and seafood restaurants. Oozing in minimalist Japanese style, the Zen-like decor is tasteful and the food to-die-for! Specialising in quality seafood, only the finest ingredients are used, including Canadian Sockeye Salmon, Alaskan King Crab and fresh wasabi couriered straight from Japan. Try the Squid sautéed with tofu, greens and sea urchins to start, immerse yourself in a platter of indulgent sushi and end off with ginger and green tea ice cream for dessert. Open for dinner from Monday to Saturday. Closed Sundays. Bookings recommended.




CUISINE:

Japanese


STYLE:

Trendy


Address:

11 Lower Kloofnek Road, Tamboerskloof
Café Mozart
Something of a Cape Town institution, Café Mozart has been attracting locals and foreigners for over thirty years. Reputed to serve the best coffee in town, Café Mozart is a great breakfast stop with tables spilling out onto a shaded pedestrianised walkway where buskers amuse passers-by with jovial tunes. With superb fruit juices, a mouth-watering selection of sandwiches made on freshly baked bread and an attractive daily menu created at the whim of chef and proprietor Tom Kelley, there is something for everyone. For teatime lovers head to Café Mozart and sample their variety of looseleaf teas that are served in elegant silver teapots and quirky crockery. Open Monday to Saturday for breakfast and lunch.




CUISINE:

Café


Address:

37 Church Street
Bukhara
Offering Cape Town's finest Indian cuisine in an elegant setting, Bukhara is situated in the CBD of Cape Town, and attracts business people, politicians, food critics and lovers of fine food. The glass-walled kitchen allows diners to watch the Indian chefs at work, while enjoying a savoury taste experience that explores the spices and flavours of authentic India. The fare includes meat, poultry, seafood and vegetarian favourites, as well as a variety of breads and rice. Open for dinner nightly and lunch from Monday to Saturday.




CUISINE:

Indian


Address:

33 Church Street


Website:

www.bukhara.com
Pigalle
Famed as Cape Town's most stylish dinner-dance venue, Pigalle is a vast, split-level restaurant divided into intimate dining areas, each boasting a view of the dance floor and band. The lavish furnishings, elegant tables and background music create the perfect atmosphere to indulge in the sumptuous offerings from either one of the set menus or from the à la carte menu. Start with black mussels; choose between the ostrich fillet with mushroom and peppercorn sauce, the fillet medallions, or the Pigalle Platter (prawns and langoustines in lemon butter), and share the crème brûlée or baked cheesecake with someone special. Open Monday to Saturday for lunch and dinner.




CUISINE:

Modern Eclectic


Address:

57A Somerset Rd, Greenpoint


Website:

www.pigallerestaurants.co.za
Ginja
The trendy Ginja restaurant offers a fine dining experience in an ambient setting. The lofty, industrial restaurant amalgamates a French brasserie ambiance with a modern Capetonian design creating an intimate and stylish environment. Chef Michael Bassett serves up contemporary fusion cuisine with a wine list to compliment and upstairs is the laid back Shogo bistro/bar, the perfect place for a pre- or post-dinner drink. Reservations essential.




CUISINE:

Modern Eclectic


Address:

70 New Church Street


Website:

http://www.myoga.co.za/web/
Café Royale
Royale is gourmet burger joint in Cape Town and it is not uncommon to see scruffy jeaned skater types rubbing shoulders with trendy executives. Royale offers a spectacular range of burgers (and an entire list of different veggie burgers too) and one can chop and change toppings, choose between ostrich, chicken, veggie burgers, regular burgers or even seared tuna burgers and feast on a mix of potato wedges, sweet potato fries, regular fries and delicious salad. The burgers sport amusing names such as the 'Miss Piggy' (with bacon and guacamole) and the 'Fat Bastard' (double everything) and the restaurant also offers a range of pizzas and mouth-watering milkshakes. Royale now boasts an upstairs bar and lounge known as the Waiting Room that features live music, as well as a third floor that caters for private functions and has a sundowner deck.




CUISINE:

American


Address:

273 Long Street
Beluga
Beluga is a stylish eatery located in the Foundry, a wonderful 100-year-old red-brick building that once housed one of the city's oldest metal works, now converted into a modern interior design and office centre in the heart of what is rapidly becoming Cape Town's film and modelling district. The restaurant offers the best of New World cuisine - plenty of robust flavours, interesting ingredients and generous portions - while the cocktail bar serves great drinks and retro-cocktails, and a welcoming café spills out onto an enclosed courtyard, serving light meals and coffees from early till late.




CUISINE:

Modern Eclectic


Address:

The Foundry, Prestwich Street, Green Point


Website:

www.beluga.co.za
The Codfather
Situated just behind Camps Bay's main strip, the Codfather offers a unique presentation of fine fish. There is no menu at this low-key restaurant - you make your choice after a personal discourse with your waiter on the daily specials. It is then weighed, prepared to the highest standard and served at your table. Staff are all first class and provide a fine act. There is also a sushi bar. Open daily for lunch and dinner.




CUISINE:

Seafood


Address:

37 The Drive, Camps Bay


Website:

www.codfather.co.za
Five Flies
Five Flies is a sassy upmarket dining venue situated in the hub of Cape Town's legal and financial district. Great care has been taken with the interior renovations of this historic 18th-century building in order to create one of the most unique dining experiences in the Cape. Executive Chef, Gerard van Staden has become renowned for his artistic and delicious creations, which are presented together with some of the Cape's finest wines. Secure street parking available.




CUISINE:

Modern Eclectic


Address:

14-16 Keerom Street, Cape Town


Website:

www.fiveflies.co.za
Millers Thumb
Solly and Jane Solomon's refreshingly-casual seafood restaurant in uptown Cape Town, Miller's Thumb's ever-changing chalkboard menu means that the customer, though reasonably assured of always finding something familiar, will just as surely find a couple of unlikely options. Cajun and Creole dishes have their influence in this kitchen, as does a winning Japanese dish which must be tried at least once: 'Yaki Soba', a noodle dish with prawns, chicken and cashews, which has become a staple. There's generally a pasta dish or two on the menu with interesting sauces, complemented by a good choice of wines.




CUISINE:

Seafood


Address:

10b Kloofnek Road, Tamboerskloof
Blues
For over 15 years Blues has been synonymous with the spectacular views of Camps Bay. Be it a stormy winter's day or perfect sunlit afternoon, you will always find Blues as buzzy, busy and as fashionable as ever. The restaurant that introduced modern California cuisine to the Cape today boasts a menu incorporating Mediterranean and fusion influences with a focus on seafood. Book well in advance during peak season and expect slightly chaotic waitering. Open daily for lunch and dinner.




CUISINE:

Modern Eclectic


Address:

The Promenade, Victoria Road, Camps Bay


Website:

www.blues.co.za
Constantia Uitsig
A huge success story from day one, Constantia Uitsig is an Italian-French restaurant with Asian fusions set in picturesque wine country, backed by the Constantiaberg. Chef Clayton Bell continues to create food with broader influences now than this original Provencale-Tuscan mix, he claims Australian and Asian influences too these days. Next door is Uitsig's sister restaurant, La Colombe, serving richer food which some prefer, but the views are not as good. Booking essential.




CUISINE:

French


Address:

Constantia Uitsig Farm, Spaanschemat River Road, Constantia


Website:

www.constantiauitsig.co.za
Wakame
The sister restaurant of Wasabe in Constantia, Wakame has a great position overlooking the ocean and is always packed with food and fashion connoisseurs. The focus is on sushi, but Wakame also serves excellent Modern European fare. There is a good bar and a outdoor terrace, ideal for sundowners. In peak season there are two sittings and booking is essential.




CUISINE:

Japanese


STYLE:

Trendy


Address:

Beach Road, Mouille Point


Website:

www.wakame.co.za
Travel guide by (c) Globe Media Ltd. By its very nature much of the information in this travel guide is subject to change at short notice and travellers are urged to verify information on which they're relying with the relevant authorities. We cannot accept any responsibility for any loss or inconvenience to any person as a result of information contained above.