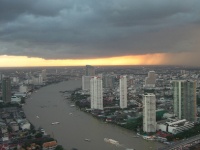 Getting Around Bangkok
Bangkok is notorious for the huge volume of traffic and traffic jams, but this has eased slightly over the years with the introduction of the elevated monorail, the Skytrain, which currently has two lines running above Bangkok''s central areas and provides a much quicker and easier alternative to the bus. The Bangkok Metro, established in 2004, has one route and covers areas not connected by the Skytrain. The Metro intersects with the Skytrain at three points and has 18 stations, with frequent services running until midnight. The extensive bus system has always been the main form of public transport, and they are the cheapest, most frequent mode of travel around the city (THB 3.50 to most destinations), but they should be used with care due to pickpockets and bag snatchers taking advantage of the squash.
The easiest, fastest and most interesting way to get around is on the waterways of the Chao Phraya River where numerous river taxis, long-tail boats and large waterbuses make most tourist sites easily reachable for about THB 10. Tuk tuks (colourful three-wheelers) are the standard way of making short journeys and are cheaper and quicker than regular taxis, but fares should be negotiated before boarding. Metered and un-metered taxis are air-conditioned, but be aware that drivers don''t carry much change. Any taxi or tuk tuk can be hired for a day''s tour of the sights (THB 500-800). If in a desperate rush during gridlock, motorcycle taxis can be hired, which are cheaper and faster, but passengers will need nerves of steel, and they should only be used for short distances. They can be recognised by the colourful, numbered vests worn by drivers.
One fun way to see Bangkok is by bicycle. The city loans free bikes to tourists for two set routes along the river; the east side goes past some of the biggest temples, while the west side goes through more residential areas. be sure to ask for a bike lock so you can stop and sightsee at the attractions along your way.