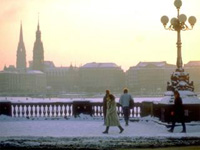 Hamburg Overview
Hamburg is a watery city, geographically, historically and atmospherically. It is Germany's second largest city and lies on the Elbe River, for centuries a major port and trading centre for central Europe. The city has a network of canals that rival those of Venice (it is said to have more bridges than Venice) and is centred on two artificial lakes that take up eight percent of its total area. Probably because of all the water, Hamburg is also known as Germany's 'green city', sporting 1,400 parks and gardens. Modern buildings sit cheek by jowl with historic Baroque and Renaissance architecture, and by night the neon lights dazzle all-night revellers, particularly in the city's notorious red light district, the Reeperbahn.
Hamburg was founded in 810 by Charlemagne and earned its place in history by becoming the most strategic port in the Hanseatic League of North German cities which controlled trade in the Baltic and North Seas between the 13th and 15th centuries. A great fire destroyed much of the city in 1842, and a century later World War II bombing raids again laid it waste, but Hamburg bounced back with style, thanks to the wealth garnered from its position as a trading centre. The city's tourist board claims that Hamburg is now home to more millionaires per capita than any other city in Europe.
Most of the sights of interest to tourists in the city are centred on its maritime traditions, particularly in the harbour area, where the warehouse district (Alster Arkaden) has been transformed into an entertaining destination offering a variety of shops, cafes and restaurants. Hamburg also has a number of lovely gardens and pretty churches and cathedrals, though there is little old architecture left in the old town. There are also a number of museums dedicated to history, art, communications, ethnology, and even spices. Further afield, Hamburg is the gateway to the seaside and spa resorts of the Baltic and North Sea coastline.