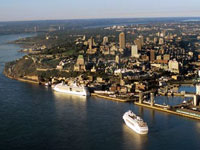 Quebec Overview
Small cafés and cosy restaurants, charming boutiques, lively terraces, elegant squares, theatres and museums, street buskers and mimes all contribute to the charm and ambience of historic Old Quebec, cradle of French civilisation in North America and still predominantly European in spirit. Perched on top of Cap Diamant, overlooking the St. Lawrence River, Quebec City was first settled by the French in 1608, named from a native Algonquin word meaning 'where the river narrows'. The cultured ambience, lively spirit, high safety rating, and a comfortable blend of past and present make this provincial capital city worthy of its status as one of the top destinations in the world.
Despite having been ceded to the British in 1759, the city's population of more than half a million are today 95 percent French-speaking, lending a definite 'joie de vivre' and culture to the atmosphere. About four million visitors are drawn to Quebec City each year, to savour this French charm, the famed Quebec gourmet scene, and the beauty of the historic Old City where winding cobbled streets are lined with 17th and 18th century stone houses and churches, bewitching parks, elegant squares, and numerous monuments. The city is included on UNESCO's World Heritage List and is one of the only fortified cities in the Americas.
Many interesting sights and tourist attractions in Quebec City are located in the walled Old Town on top of the hill, including dozens of small shops and boutiques and attractive historical buildings. There are also interesting neighbourhoods to explore in the more modern Upper Town and Lower Town, which are connected by stairs. The Old Town is compact and easily walkable. If you get tired or cannot navigate the steep stairs between Upper Town and Lower Town, take a scenic ride in the Funiculaire, or hire one of many horse-drawn carriages for a quaint view of the historic sights.
There are many things to see and do in Quebec City, Visit the National Museum of the Arts, the Franco-American Museum, or the Capital Observatory, which is one of the tallest buildings in Quebec and offers panoramic views of the city. You can take a ferry to Lévis, which offers memorable views of the Chateau Frontenac and the Old Town, or take a sunset cruise on the St Lawrence River.
Children will enjoy a visit to the Chocolate Museum, or a spin around the ice rink in Old Town. Villages Vacances Valcartier has waterslides and go-karting in the summer.
Just a few kilometres from downtown, the surrounding nature of Quebec City presents numerous opportunities for outdoor activities and recreation, like horseback riding, canoeing, hiking and skiing.