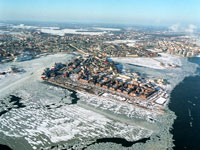 helsinki Nightlife
Helsinki may be cold, but the pulsating nightlife is enough to get this city hot and sweaty. With a number of trendy nightclubs, bars and pubs, visitors will have no problem making full use of the long, dark winter nights. Most of the nightlife in Helsinki is centred round Uudenmaankatu and Eerikinkatu where bars and clubs abound and crossing from one to the other is a quick dash across the cold street. Finns love their tango music too so expect to find plenty of sultry dancing in restaurants, bars and even the streets during the summer months, with the favourite outdoor dancing spot being Pavin tanssilava, in nearby Vantaa.
No visit to Helsinki is complete without seeing the famous Arctic Ice Bar at La Bodega, with its frigid temperature making for great photo opportunities even if it''s overrun with tourists. The entry fee includes parka rental if you come unprepared. Head to the stylish Bar 9 in Uudenmaankatu 9 for a night out with the local trendoids, or neighbouring Bar Tapasta where the ultra-hip mingle while sipping on designer beers and nibbling on tapas. Con Hombres in Eerikinkatu 27 is the place to be seen working up a sweat to local techno music in the gay scene, while Stockholm Diskotek in Simonkatu 8 boasts three storeys, six bars and hundreds of Helsinki''s hottest people partying the night away. For live music, Nosturi in Telakkakatu 8 is where some of Helsinki''s hottest new bands showcase their talents while On the Rocks in Mikonkatu 15 is great for those looking for a heavy rock gig and a little moshing for good measure.
For a more cultured evening, head to Finlandia Hall for the Helsinki Philharmonic Orchestra and other concert performances (this is the home of Sibelius after all). The Finnish National Opera performs regularly, and Helsinki''s thriving jazz scene is personified in the UMO Jazz Orchestra, which plays at various venues around town.
For updated concert listings and gig guides, pick up a copy of the , available for free at most hotels and tourist centres.