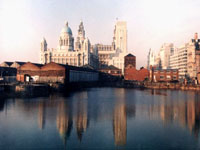 Liverpool Overview
Whether you take the 'ferry 'cross the Mersey', or a stroll down Penny Lane, most visitors will find it difficult to explore Liverpool without a song on their lips. From the Twin Cathedrals with their striking views over the city to the historical, Grade 1-listed Albert Dock and its Beatles museum, there's certainly plenty to see and do in Liverpool.
An important maritime centre and industrial port, Liverpool was one of the great cities of the United Kingdom in the Industrial Revolution, and much of its wealth came from its dominance in the shipping of textiles, cotton, sugar and slaves. The city was severely bombed in World War II and has struggled to get back on its feet, experiencing alternating waves of prosperity and depression. The 1960s saw the explosion of the Beatles and pop music, while the 1990s saw an attempt to regenerate the rather dull urban centre.
Liverpool's waterfront is now a UNESCO World Heritage Site, and the city has achieved World Heritage Status, joining Edinburgh and Bath as the only UK cities to carry the honour. Since the announcement of Liverpool as the European Capital of Culture for 2008, millions of pounds have been poured into further development of the city, including the £920 million Paradise Street development in the city centre.
Liverpool is a city of diversity and despite its struggles, it boasts the greatest amount of Georgian buildings in the UK, Europe's oldest Chinatown, a number of striking Victorian structures and plenty of world-class attractions. The historical Albert Dock was restored in the 1980s and is now one of the city's most popular attractions, housing chic restaurants, bars, shops and museums, including the Merseyside Maritime Museum and the Tate Liverpool. The city boasts two world-class football clubs, Liverpool and Everton, and fans can explore the grounds of their favourite teams through guided tours. There is also plenty of Beatlemania to satisfy fans, including the International Beatles Week every August, and several Beatles-related museums and points of interest.
The city plays host to plenty of other events, festival and concerts, as well as the world's biggest steeplechase in the form of the Grand National, held at Ainstree. There are also several fascinating museums, beautiful parks and gardens, bustling markets and galleries to explore. Whether a Beatles fan or not, Liverpool has much to offer the visitor, and it is no wonder that it has become one of the top UK daytrip destinations in recent years.