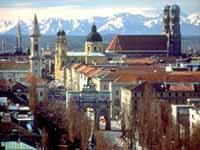 Things to do in Munich
This charming Bavarian city is a popular tourist destination, not only for its famed Oktoberfest Festival, but also because it''s nothing like the rest of Germany really.
A charming combination of old world allure and modern flair, the city boasts numerous attractions, including numerous Munich museums such as the BMW Museum, Deutsches Museum, Museum Brandhorst, the City Museum of Munich and the National Bavarian Museum, to name a few. Head to the Marienplatz to see some historic buildings and marvel at the uniquely German architecture, visit Olympia Park and eat lunch in the revolving restaurant from the adjacent observation tower to enjoy breathtaking views over the city.
Looking for a bit of fresh air and respite from the rat race? Head to the Englischer Garten in Schwabing to relax and unwind in the picturesque gardens, and while you there, you can pay Munich''s second biggest beer garden. For travellers looking for a bit more adventure, Munich is also the gateway to the Bavarian Alps and sport enthusiasts from near and far flock here each winter.
Visitors planning on doing lots of sightseeing should purchase the Munich CityTourCard which entitles the bearer to free public transport in Munich and a discount card for many tourist attractions and is available for either one or three days.