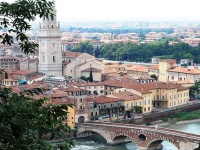 Verona Shopping
Shopaholics on holiday in Verona will be able to get their fix as, like most Italian cities, Verona has its fair share of boutiques, designer stores, specialist stores and shopping malls. Le Grande Mela on Statale 11 is a great place to start, where 130 stores, a multi-screen cinema, 20-lane bowling alleys, billiard-rooms and game arcades can be found. It is, in many ways, the ultimate shopping experience.
Head to Via Mazzini, also known as the Golden Mile, for all the designer names like Max Mara and Cartier, where clothing, shoes and handbags are the order of the day. Even if you can''t afford them, it''s nice to just window-shop. The Corso Porta Borsari is another elegant shopping street in Verona, where everything from clothing to stationery stores can be found.
Looking for antiques, paintings and collectables? Visit Corso Sant''Anastasia and the surrounding area, where a number of antique shops and art galleries can be found lining the narrow streets. Try Antichità Due Torri and Antichità Sottoriva for antiques and Boxart or Arts Noveaux for one-of-a-kind pieces. The antique market in Piazza San Zeno takes place on the third Saturday of every month and is great for furniture, jewellery and even old motorcycles.
For fresh fruit, vegetables and other local produce, the market in Piazza Erbe is the place to go, while for some of nearby Valpolicella''s finest wines, the Istituto Enologico Italiano on Via Sottoriva has a large selection of Italian wines.