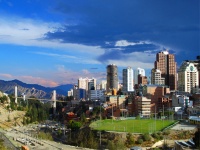 La Paz Overview
The air is indeed rare in La Paz, the world's highest capital city, at two and a half miles (4km) above sea level, or 11,910ft (3,630m). Living in La Paz is a bit bizarre because it is akin to living in a giant bowl. Around the rim are brick buildings and workshops, the inside slopes are scattered with houses, and across the bottom is the dense city centre. Rising up in the background is the most well known of Bolivia's lofty peaks, Illimani, standing at 21,188ft (6,420m). The most pleasant way to explore the diminutive city centre is on foot; the alternative is to sit on a crowded bus in congested traffic. Expect your sightseeing to leave you breathless. Steep, narrow streets lead into an assortment of little alleyways while well-used staircases wind their way up between crooked houses and colourful hotels.
More than a million people live in La Paz, adding colour, culture and vibrancy to the otherwise dusty barrenness of a high altitude city. The most rewarding (and least exhausting) activity is to people-watch. Andean women dress in brightly coloured, multi-layered skirts and thick knee-length stockings with bowler hats perched jauntily over long, plaited strands of hair. There are also smartly dressed businessmen and scruffy street urchins wrapped in woven blankets, shoe shiners and fruit sellers, trinket vendors and alpaca wool weavers.
The city also has some interesting museums, modern and comfortable hotels and is an excellent place to purchase authentic local souvenirs. Beautiful hand-spun alpaca wool products, paintings, silver handcrafted jewellery, music and musical instruments are just some of the many things on offer.