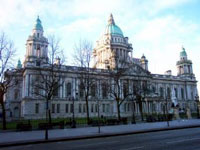 Things to do in Belfast
Belfast is a great place for travellers to enjoy sightseeing, as the layout of the city and its public transport make it easy for visitors to get from the centre of Belfast to the surrounding suburbs within 20 minutes, even during rush-hour.
Take a trip to City Hall and admire the turn-of-the-century British architecture and the memorial to the victims of the ill-fated Titanic (which was built in Belfast), and a statue of Queen Victoria. Head to Cathedral Quarter, where the beautiful St Anne''s Cathedral provides a wonderful backdrop for the small shops, boutiques, galleries and eateries lining the streets around it, and take in the magnificent architecture in the area which is marketed as Belfast''s ''cultural'' district.
For a more relaxing day of sightseeing, visit the Botanic Gardens with a book and a packed lunch, and then head to Falls Road or Shankill to see some of the world''s finest political mural. Animal lovers should visit the Belfast Zoo to meet the famous prairie dogs that run free around the zoo''s grounds and the Barbary lions; and opera lovers will be thrilled at the opportunity to visit the Grand Opera House for a tour or a performance.