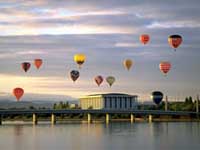 Things to do in Canberra
Canberra''s Fiesta is a good way to get to know the city from an unusual perspective. The sight of dozens of colourful hot air balloons rising gently into the early morning air from the lawns in front of Canberra''s Old Parliament House is stirring. Perhaps that is why Canberra''s Fiesta has become Australia''s premier ballooning event, and the city''s signature autumn event. To complement the spectacle of the majestic balloons, there are also numerous other entertainments, sideshows and food stalls laid on in the vicinity for the duration of the fiesta.
Some other interesting activities in Canberra include visits to the Australian Railway Historical Society and the National Zoo and Aquarium. The Australian Railway Historical Society Inc operates regular Sunday steam train rides to Royalla on the first and third Sunday of each month, and on the second and fourth Sunday operates rail motor trains to Royalla. Ride the ''Spirit of Tuggeranong'' or the ''Tin Hare Express'' to Royalla, enjoy a picnic lunch and then hop back on for the return trip. Other trips available include evening railroad dinner and dancing trips. The trains operate from Queanbeyan Railway Station, Henderson Road.
View exotic and native animals, ocean and freshwater fish, reptiles and amphibians at the National Zoo and Aquarium. See leopards, lions, tigers, cougars, bears, monkeys, Tasmanian devils, sharks and Barrier Reef exhibits. Feed kangaroos and pat dingoes. The complex is beside Lake Burley Griffin, and large habitats provide ideal viewing for education and enjoyment.