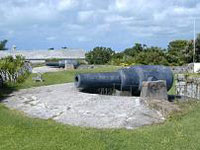 Hamilton Overview
Bermuda's pretty pastel-shaded capital, Hamilton, named after a former Governor, hustles and bustles with local shoppers and keen sightseers every day of the week. Although it is officially a city, boasting a massive 19th-century neo-Gothic cathedral, it is the size of a town and is inhabited by approximately 15,000 people. The population swells appreciably with the frequent arrival of cruise ships that berth next to Hamilton's main thoroughfare of Front Street, stretching along the harbour-front. Front Street also boasts a ferry terminal, a parade area and countless shops, restaurants and taverns. Most visitors linger at any one of the restaurants along the stretch and enjoy the harbour views or watch the passersby from the decorative balconies. The mood is relaxed and amiable. Throughout the town British influences have blended comfortably with the casual island style. Visitors can explore elegant buildings like the Royal Yacht Club and Historical Museum, or take a ride in a quaint horse-drawn carriage.
Hamilton's pride is the Georgian-style Sessions House, on Church Street. It dates back to 1815 and serves as Bermuda's House of Assembly and Supreme Court. It is also worth visiting Fort Hamilton, particularly for the splendid views it offers of the city, harbour and Gibb's Hill Lighthouse. At midday every Monday shows are staged with bagpipers and traditional dancers.
From Hamilton one can take a 15-minute walk to one of Bermuda's more recent attractions, the state-of-the-art Bermuda Underwater Exploration Institute. This is a multi-million dollar institute built to showcase the natural wonders of the surrounding oceans. The Institute offers a simulated dive in a capsule and interactive exhibits detailing local reef wrecks, plant and animal life. Also worth visiting is the Bermuda Historical Society Museum.