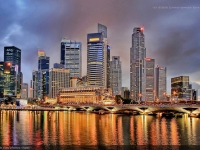 Best Restaurants in Singapore
With heavy influences of Malay, Chinese, Indonesian, Indian and British, the cuisine in Singapore is far from dull and fusion food is the order of the day. Street vendors are common in this bustling city for a tasty meal on the go, and most specialise in one dish with favourites including fish head curry or Mee Goreng (yellow egg noodles stir fried with ghee, tomato sauce, chilli, egg, vegetables and various meats or seafood). Seafood such as prawns, oysters, crabs and lobsters are also popular dishes on most Singapore menus and traditional dishes such as laksa (soup), popiah (spring rolls), and satay (barbecued meat skewers) are worth trying. Those with a sweet tooth will enjoy the sugary desserts like kuih (steamed cakes), bubur cha-cha (coconut milk soup), and ice kachang (shaved ice with sweet red beans).
Hawker centres are the cheapest places to eat, and come with their own unique atmosphere, which is somewhere between a market and a food court. Prices are low and the food is very good, so it''s a great way to try a lot of dishes. Find a table first, and many stalls will deliver your food to you. Popular hawker centres include Newton Circus, Glutton''s Bay, and Lau Pa Sat, as well as several options in Chinatown.
Singapore has its share of international fast food chains, but local takeaway options worth trying include Bengawan Solo''s Chinese pastries, Old Chang Lee''s deep-fried curry puffs, and the traditional Singaporean breakfast at Ya Kun Kaya Toast.
Singapore''s more upmarket restaurants have a lot to offer as well, with plenty of variety. A special focus is on Chinese cuisine and seafood, however. Head to the Orchard Road area and the historic district for eateries of every nationality, or for a trendy night out then a trip to Boat Quay or Clarke Quay along the riverfront is a must.
Restaurants will often display the prices with plus signs: $19.99++ indicates that service charges and sales tax are not included and will be added to the bill. Tipping is not practised in Singapore, and is officially discouraged by the government.
Absinthe
This popular French restaurant, located in a restored shophouse, is well-known to both locals and tourists for its chic ambience, polished service, and memorable food. The waiters are ready to assist you in navigating the extensive winelist, as well as their selection of absinthes on offer! One of the pricier restaurants in town, it's a great place to celebrate a special occasion. Absinthe is open for lunch Monday to Friday, and dinner Monday to Saturday. Valet parking is available.




CUISINE:

French


Address:

48 Bukit Pasoh Road


Website:

www.absinthe.sg
IndoChine Waterfront
Authentic Cambodian, Lao and Vietnamese dishes combine with hints of France from the Indochinese days of colonialism to create an exceptional Asian experience. Buddhist figurines, flower-shaped crystal chandeliers, and Ming Dynasty style chairs with plush silk cushions of oriental designs add to the exotic atmosphere, which is complemented by stunning views over the Singapore River. House specialities include beef stew ragout, and pepper beef in sweet and sour sauce, but there are other traditional favourites such as Cambodian Tiger Prawns, Roast Duck in green curry, and the Trio Seafood with Khmer Tamarind Sauce. For starters there are spring rolls, or prawns grilled on sugarcane, while lemongrass Crème brulée washed down by the not-to-be-missed Vietnamese coffee is the perfect end to the dining experience. Reservations required. Open daily for lunch and dinner.




CUISINE:

Asian


Address:

Empress Place Building


Website:

www.indochine.com.sg
Li Bai
The understated décor of Li Bai is sleek and modern with a strong Chinese influence, with contemporary furnishings in red and black lacquer, jade table settings, and silver and ivory chopsticks. Large vases of elegant pussy willows add subtle opulence to the ambience. The Cantonese fare is traditional with a modern and innovative touch of class that includes creations such as the aromatic farm chicken smoked in jasmine tea leaves. The fresh seafood should not be missed; baked fillet of cod with honey, shark's fin sautéed with crabmeat, and Canadian cod sautéed with ginger and garlic, accompanied by the fabulous crab fried rice, are delicious. Reservations required. Open daily for lunch and dinner.




CUISINE:

Chinese


Address:

Sheraton Towers, 39 Scotts Road


Website:

www.sheratonsingapore.com/libai.html
Harbour Grill and Oyster Bar
This small and cosy award-winning restaurant dishes up perfectly grilled seafood, fresh oysters, US prime rib and rack of lamb. The cuisine is attentive to natural freshness rather than the typically rich Continental fare, and guest chefs from around the world are flown in for monthly specials. Harbour Grill and Oyster Bar is open Monday to Friday for lunch and Monday to Saturday for dinner. Reservations are recommended.




Address:

Hilton International, 581 Orchard Road
Esmirada at Orchard
Wrought-iron décor and terracotta floors combine to create the Mediterranean environment where friends gather to enjoy good food and wine. The menu consists of one dish each from Italy, Spain, Portugal, France, Greece and Morocco and the generous portions are served family-style in the centre of the table for all to tuck into. Signature dishes include the superb Spanish paella, which is the best in the country; various kebab skewers or Moroccan couscous served with lamb shank, chicken or vegetable stew are also excellent. Dinner reservations recommended.




CUISINE:

Mediterranean


Address:

Orchard Hotel, 442 Orchard Road #01-29


Website:

www.esmirada.com
Inagiku
Inagiku stands out as one of Singapore's premier Japanese restaurants with a reputation for impeccable service and exquisite authentic cuisine, using the freshest ingredients. Split into four dining areas that include the tempura, sushi and teppanyaki bars, and the main dining room, diners can either choose from the à la carte menu or counter hop. The tempura bar is the only one in Singapore, and the teppanyaki is deemed to be the best in the country, whipped up before one's eyes in a traditional display of Teppanyaki style and flair. Chefs at each counter perform the articulate art of Japanese cooking and go out of their way to meet the requests of their guests. Reservations recommended. Open for lunch and dinner daily.




CUISINE:

Japanese


STYLE:

Trendy


Address:

Raffles The Plaza, 80 Bras Basah Rd (Historic District)


Website:

www.inagiku.com
Iggy's
The appeal of Iggy's is the warm ambiance of a very small venue appearing as a friends living room. Only the food is much better. The warm home cooked and internationally inspired meals are set according to seasonal ingredients so it important to check what they are serving for the night ahead of making reservations. Vegetarian replacement meals can be made if they are notified in advance. Reservations are essential.




CUISINE:

International


Address:

The Regent, Level 3, 1 Cuscaden rd.


Website:

www.iggys.com.sg
Graze
The chic yet casual venue makes diners share a feel of attending the coolest dinner party in town. With both outdoor patio seating spread around lush gardens and indoor tables with the décor of a friend's chic dining room, Graze serves Australian style barbecue dishes of big steaks and seafood platters. An outdoor lounge is a popular meeting point for drinks.




CUISINE:

International


Address:

4 Rochester Park Singapore 139215


Website:

www.graze.com.sg
iL Lido
With one of the best patio dining venues in Singapore, il Lido gives impressive seaside views from a chic modern designed interior and deck. It is also one of the best Italian restaurants and the most innovative in Singapore with such dishes as champagne risotto with tiger prawns and asparagus. A classy lounge and bar also make a great getaway from the city or a great 19th hole. Reservations for dining are recommended.




CUISINE:

Italian


Address:

Sentosa Gold Club, 27 Bukit Manis Road


Website:

www.il-lido.com
Song of India
One of Singapore's best restaurants and first place for Indian cuisine Song of India transports diners to old world colonial elegance in several ornately decorated dining rooms and garden scenery. Both a la carte dishes and set menus are highly praised by the Singapore dining world. A great way to experience Indian cuisine is the Journey Through India set menu option which includes six courses from different regions in India. Reservations are recommended.




CUISINE:

Indian


Address:

33 Scotts Road


Website:

www.thesongofindia.com
Raffles Grill
The 'Grand Dame' of Singapore restaurants is an experience in elegant sophistication, fine dining and colonial charm. Impeccably dressed waiters with a daunting display of culinary knowledge, attentive yet discreet service, and courteous efficiency are backed by the majestic décor and spotless tableware. The food is similarly outstanding, and dishes like the signature smoked Atlantic salmon, the roasted rack of suckling pig, and various exquisite desserts are stylishly presented. Raffles has one of the best cellars in the country and the cellar master can select a wine to complement each course. Lunch Monday to Friday and dinner Monday to Saturday. The dress code is 'smart elegant' and booking is essential.




CUISINE:

International


Address:

1 Beach Road (Historic District)


Website:

www.raffleshotel.com
Travel guide by (c) Globe Media Ltd. By its very nature much of the information in this travel guide is subject to change at short notice and travellers are urged to verify information on which they're relying with the relevant authorities. We cannot accept any responsibility for any loss or inconvenience to any person as a result of information contained above.