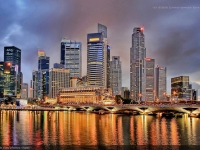 Best Restaurants in Singapore
With heavy influences of Malay, Chinese, Indonesian, Indian and British, the cuisine in Singapore is far from dull and fusion food is the order of the day. Street vendors are common in this bustling city for a tasty meal on the go, and most specialise in one dish with favourites including fish head curry or Mee Goreng (yellow egg noodles stir fried with ghee, tomato sauce, chilli, egg, vegetables and various meats or seafood). Seafood such as prawns, oysters, crabs and lobsters are also popular dishes on most Singapore menus and traditional dishes such as laksa (soup), popiah (spring rolls), and satay (barbecued meat skewers) are worth trying. Those with a sweet tooth will enjoy the sugary desserts like kuih (steamed cakes), bubur cha-cha (coconut milk soup), and ice kachang (shaved ice with sweet red beans).
Hawker centres are the cheapest places to eat, and come with their own unique atmosphere, which is somewhere between a market and a food court. Prices are low and the food is very good, so it''s a great way to try a lot of dishes. Find a table first, and many stalls will deliver your food to you. Popular hawker centres include Newton Circus, Glutton''s Bay, and Lau Pa Sat, as well as several options in Chinatown.
Singapore has its share of international fast food chains, but local takeaway options worth trying include Bengawan Solo''s Chinese pastries, Old Chang Lee''s deep-fried curry puffs, and the traditional Singaporean breakfast at Ya Kun Kaya Toast.
Singapore''s more upmarket restaurants have a lot to offer as well, with plenty of variety. A special focus is on Chinese cuisine and seafood, however. Head to the Orchard Road area and the historic district for eateries of every nationality, or for a trendy night out then a trip to Boat Quay or Clarke Quay along the riverfront is a must.
Restaurants will often display the prices with plus signs: $19.99++ indicates that service charges and sales tax are not included and will be added to the bill. Tipping is not practised in Singapore, and is officially discouraged by the government.