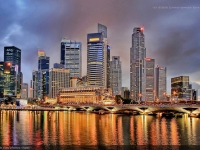 Best Restaurants in Singapore
With heavy influences of Malay, Chinese, Indonesian, Indian and British, the cuisine in Singapore is far from dull and fusion food is the order of the day. Street vendors are common in this bustling city for a tasty meal on the go, and most specialise in one dish with favourites including fish head curry or Mee Goreng (yellow egg noodles stir fried with ghee, tomato sauce, chilli, egg, vegetables and various meats or seafood). Seafood such as prawns, oysters, crabs and lobsters are also popular dishes on most Singapore menus and traditional dishes such as laksa (soup), popiah (spring rolls), and satay (barbecued meat skewers) are worth trying. Those with a sweet tooth will enjoy the sugary desserts like kuih (steamed cakes), bubur cha-cha (coconut milk soup), and ice kachang (shaved ice with sweet red beans).
Hawker centres are the cheapest places to eat, and come with their own unique atmosphere, which is somewhere between a market and a food court. Prices are low and the food is very good, so it''s a great way to try a lot of dishes. Find a table first, and many stalls will deliver your food to you. Popular hawker centres include Newton Circus, Glutton''s Bay, and Lau Pa Sat, as well as several options in Chinatown.
Singapore has its share of international fast food chains, but local takeaway options worth trying include Bengawan Solo''s Chinese pastries, Old Chang Lee''s deep-fried curry puffs, and the traditional Singaporean breakfast at Ya Kun Kaya Toast.
Singapore''s more upmarket restaurants have a lot to offer as well, with plenty of variety. A special focus is on Chinese cuisine and seafood, however. Head to the Orchard Road area and the historic district for eateries of every nationality, or for a trendy night out then a trip to Boat Quay or Clarke Quay along the riverfront is a must.
Restaurants will often display the prices with plus signs: $19.99++ indicates that service charges and sales tax are not included and will be added to the bill. Tipping is not practised in Singapore, and is officially discouraged by the government.
Osteria Mozza
With names like Mario Batali, Joseph Bastianich and Nancy Silverton on a restaurant venture, you know it has to be something special - and of course, Italian. The free-standing mozzarella bar located inside Osteria Mozza is where Chef Silverton can be found making fresh Mozzarella, Burrata, Bocconcini, and Stracciatella, while the rest of the menu offers an assortment of pasta, seafood and meat options like the Tagliatelle with Oxtail Ragu, Grilled Yellowtail with Romanesco cauliflower, or Porcini-Rubbed Wagyu Ribeye Bistecca. Each dish was created by Mario Batali and Executive Chef David Almany with inspiration from their travels and dining experiences in New York and Bologna.


ATTIRE:

Casual


CUISINE:

Italian-American


Address:

2 Bayfront Ave. #B1-42/46


Website:

http://www.osteriamozza.com/singapore/home.cfm
Waku Ghin (at Marina Bay Sands, Singapore)
Celebrity Chef Tetsuya Wakuda opened Waku Ghin in 2011 and watched it quickly climbed the ranks as one of Singapore's best restaurants. The dining concept allows for only 25 guests at a time during just two seatings per night for a 10-course degustation menu. Certain menu items, like the Japanese Ohmi Wagyu, are cooked on stainless steel teppanyaki grills right in front of diners as they gave out onto the city skyline from the expansive 10,000-square-foot dining room. The Bar at Waku Ghin is a great For a pre- or post-meal haunt, serving specialty cocktails along with caviar, oysters, cheese and meat platters.


ATTIRE:

Smart Casual/Business


CUISINE:

European-Japanese


Address:

10 Bayfront Ave., Level 2


Website:

http://www.marinabaysands.com/Singapore-Restaurants/Celebrity-Chefs/Waku-Ghin/
Gunther's
Found along one of Singapore's foodie-favorite streets, Gunther's has established itself as a force to be reckoned with on Purvis Street. This modern French restaurant has been racking up the accolades for years, including being named "New Restaurant of the Year" at the World Gourmet Summit Awards of Excellence in 2009 and 2012, as well as making The Miele Guide's list for Asia's Top 20 Finest Restaurants every year since 2008. The large dining area is warm and inviting, yet decorated very minimally to ensure the food remains the main attraction. Chef Hubrechson's signature dishes include cold angel hair pasta with Oscietra caviar; crispy suckling pig with Kriek beer sauce; and carpaccio of Wagyu beef tartare with crispy potato.


ATTIRE:

Dressy


CUISINE:

French


Address:

36 Purvis St. #01-03


Website:

http://www.gunthers.com.sg/
Burnt Ends
Opened April 2013, Burnt Ends is a welcome respite from the many fine dining restaurants populating Singapore. Sit at a casual countertop table at this modern Aussie BBQ and have a look into the open kitchen where the dual cavity apple and almond wood burning ovens and elevation grills are cooking up a different kind of epicurean experience for locals and tourists, alike. Chef Dave Pynt uses techniques like smoking, slow roasting, hot roasting, baking, grilling and cooking directly on coals to create his menus that change daily to ensure only the freshest ingredients are featured. The bar at Burnt Ends is stocked with Australian wines from small growers and family wineries, along with craft beers, and premium spirits.


ATTIRE:

Casual


CUISINE:

Australian barbeque


Address:

20 Teck Lim Rd.


Website:

http://www.burntends.com.sg/
JAAN (at Swissotel The Stamford, Singapore)
Located in one of the tallest hotels in Southeast Asia, this 40-seat restaurant on the 70th floor of the Swissotel The Stamford, Singapore is serving elegantly modern French cuisine under a Murano crystal and silver chandelier floating across the length of the ceiling. In the heart of the bustling business district, JAAN - Sanskrit for "bowl" - offers a 5-course Degustation menu, 5- or 7-course Jardin Gourmand menu, 7-course Prestige menu, and an à la carte dinner menu, all with optional wine pairings. The artisanal cuisine is meant to showcase the seasonality of the ingredients in simple, yet innovative preparations and plating.


ATTIRE:

Smart elegant


CUISINE:

French


Address:

Equinox Complex


Website:

http://www.jaan.com.sg/
Les Amis
For 20 years, Les Amis has been dazzling guests with its modern European cuisine and extensive wine list - one of the largest in Asia, with over 2,000 bottles. Although an older tradition, gueridon service is still practiced here, with diners being able to choose from a selection of cheeses and Champagne table side for added convenience and personalization. The main dining room can accommodate 30, while a private area sits up to six and allows these privileged few to peruse a library of culinary books and peer into the kitchen during dinner service. Les Amis prides itself on providing a warm, friendly environment instead of a stiff or discourteous air that most fine dining establishments are known for.


ATTIRE:

Smart Casual


CUISINE:

French


Address:

1 Scotts Rd., #02-14/16


Website:

http://www.lesamis.com.sg/
L'Atelier de Joël Robuchon (at Resorts World Sentosa)
With the kitchen and dining room separated only by a counter, diners at L'Atelier de Joël Robuchon at Resorts World Sentosa are able to watch the culinary creations being prepared by the world-class chefs; and similarly, the hard-working chefs are able to see their guests enjoying their dishes from inside the kitchen. Offering an à la carte menu, four-course discovery menu, tasting portion menu, and main course menu means guests can choose what kind of dining experience - from one dish to a full meal. The dramatic use of solely black and red furnishings is balanced out by the playful atmosphere that welcomes diners to be a constant part of the action.


ATTIRE:

Dressy


CUISINE:

French


Address:

8 Sentosa Gateway, Sentosa Island


Website:

http://www.rwsentosa.com/language/id-ID/Homepage/Restaurants/LAtelierdeJo%C3%ABlRobuchon
Restaurant André
Named one of "10 Restaurants Worth a Plane Ride" by The New York Times and "Best Restaurant of The Year 2013" by Gourmet & Travel Magazine, Restaurant André follows its own set of rules when it comes to cuisine. Chef Chiang realized he had not just one signature dish, but rather a signature style and creative process he coined as his 'Octaphilosophy.' Chiang found that all of his creations incorporated eight elements - unique, pure, texture, memory salt, south, artisan, and terroir. While dining at this 30-seat restaurant, guests will experience these elements in each course... and perhaps some unexpected pairings and unfamiliar flavors that will keep them on their toes.


ATTIRE:

Dressy


CUISINE:

French


Address:

41 Bukit Pasoh Rd


Website:

http://restaurantandre.com/
Shinji's by Kanesaka
This Edo-style sushi restaurant is two-star Michelin Chef Shinji Kanesaka's first venture outside of Japan. Located inside Singapore's oldest hotel, Shinji's by Kanesaka at Raffles honors the core of Japanese culture and art as represented by 'kata' and 'do.' The restaurant features a traditional omakase menu, meaning all selections are prepared by the chef without giving any orders. Dining here means putting all your trust in the expertise of the chefs and allowing them to surprise you with their innovation and creativity. At the main sushi counter - carved out of a single piece of 220-year-old Japanese hinoki tree - Master Chef Oshino and his culinary team take center stage to display their impressive knife work and techniques dating back thousands of years.


ATTIRE:

Dressy


CUISINE:

Japanese, Sushi Bar


Address:

Raffles Hotel


Website:

http://www.shinjibykanesaka.com/
Iggy's
Iggy's is the vision of renowned sommelier and restaurateur Ignatius Chan who dreamt of creating a small, intimate dining experience featuring only the finest seasonal products. The 28-seat restaurant was previously located in The Regent hotel for six years before it found its current home at The Hilton Hotel on Orchard Rd. Iggy works closely with the culinary team to develop dishes inspired by his world travels with ingredients from Europe, Asia and Australia. The wine list focuses mainly on Burgundies, as Pinot Noir has come to be one of Iggy's favorite varietials. For the ultimate dining experience, allow their team to pair each course with a specially selected wine.


ATTIRE:

Casual


CUISINE:

Japanese, French


Address:

The Hilton Hotel, Level 3


Website:

http://www.iggys.com.sg/
Travel guide by (c) Globe Media Ltd. By its very nature much of the information in this travel guide is subject to change at short notice and travellers are urged to verify information on which they're relying with the relevant authorities. We cannot accept any responsibility for any loss or inconvenience to any person as a result of information contained above.