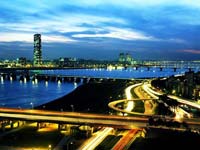 Best Restaurants in Seoul
The selection of Seoul restaurants is vast and varied with everything from local specialities, such as , to huge American cheeseburgers and exotic Moroccan kebabs on offer. Options for eating out in Seoul range from cheap noodle stalls to fine-dining establishments. The Itaewon entertainment strip has the best collection of Seoul restaurants, serving both local and international cuisine. Otherwise, good areas for traditional Korean food are Gangdong-gu and Yeongdeungpo-gu, while restaurants with international menus can be found in Gangnam-gu, Seodaemun-gu and Namdaemun. Tipping is not customary in Korea but some Seoul restaurants may add a service charge of 10%. Restaurant hours vary throughout the city and reservations are recommended.
The Flying Pan
Located in a quiet Itaewon alleyway, The Flying Pan is a popular café set in a lofty building and charmingly furnished with chairs that don't match each other, at all! Menu favourites include chicken curry sandwiches, Saturday brunch pancakes, bagels with cream cheese and the delicious chocolate mud (brownies with wine sauce). Open from breakfast till 9.30pm Monday to Saturday, reservations recommended.




CUISINE:

Café


Address:

123-7 Itaewon-Dong
Baekje Samgyetang
Diners at Baekje Samgyetang are seated on comfortable floor cushions around the restaurant's polished wooden tables and served traditional Korean cuisine, such as (chicken soup), best accompanied by a glass of (ginseng wine). Open daily from 9am to 10pm, no reservations required.




CUISINE:

Local


Address:

50-11 Myeongdong 2-ga
Arvorig
This cosy French restaurant serves a fine selection of sweet and savoury buckwheat crepes, quiches, (cakes) and salads, and also boasts a good range of French wines. Open daily for lunch and dinner, reservations not essential.




CUISINE:

French


Address:

123-1 Itaewon-dong
Wan Chai
Chinese cuisine is popular in Seoul, as evidenced by the large number of Chinese restaurants. One of the tried and trusted restaurants in this genre is Wan Chai with a vast menu covering all the traditional favourites. Named after Hong Kong's nightlife district, Wan Chai is popular with young Koreans and serves tasty Chinese food in a relaxed environment. Highly recommended are the spicy noodles and spicy Hong Kong shellfish.




CUISINE:

Chinese


Address:

5-35 Jangchun-dong, Seodaemun-gu
Do Ga Hun
Aptly named, Do Ga Hun is set in the 'very beautiful house' of the Hyundai Gallery, and also has a lovely outdoors area for alfresco dining. Menu favourites include the king-crab, grapefruit and avocado salad, and the glazed beef tenderloin. Open Tuesday to Sunday for lunch and Monday to Saturday for dinner, reservations recommended.




CUISINE:

Fusion


Address:

109 Sagan-dong


Website:

http://dogahun.com
Nashville Steak House
For a taste of the USA seek out Nashville, the American bar/restaurant that has become something of a landmark on Seoul's Itaewon entertainment strip. Enjoy a martini or a beer and wolf down a cheeseburger with fries, buffalo wings or a tenderloin Texas-style steak. The chef, surprisingly, is French, but his burgers are renowned as the best in Korea. The atmosphere is informal and the clientele largely made up of the ex-pat community. Open daily from 7am to midnight, reservations recommended.




CUISINE:

Steakhouse


Address:

128-9 Itaewon-dong, Yongsan-gu


Website:

www.nashvilleclub.com
Seasons
For the ultimate dining experience, offering a French fusion menu or a seven course set meal, the Seoul Hilton's Seasons restaurant scores top marks for cuisine, service and ambiance. Executive Chef Hyo Nam Park is a recognised master of his craft who enhances traditional French dishes with his own special touches. Both the set menu and the à la carte change frequently. The setting is decidedly elegant and intimate, and the service discreet and old-fashioned. Open daily for lunch and dinner, reservations essential.




CUISINE:

French


Address:

Millennium Seoul Hilton Hotel, 395-5 Ga, Namdaemun
Myeongdong Hamheung Myeonok
Myeongdong Hamheung Myeonok is one of the best Seoul restaurants to go to for a relaxed (cold noodle) meal. Their sweet potato noodles can be enjoyed in a delicious oxtail broth, or perhaps with spicy (raw fish). Open daily from 9.30am to 10pm, reservations not required.




CUISINE:

Local


Address:

26-1 Myeongdong 2-ga
Jangchu
For the adventurous diners, Jangchu is known for its excellent (grilled eel). This unassuming eatery is located behind the Chungmuro Geukdong Building and is marked by a large white sign and a cartoon of an eel wearing a chef's hat. Open daily for lunch and dinner, reservations not required.




CUISINE:

Seafood


Address:

Behind the Chungmuro Geukdong Building, Jongno
Sanchon
Don't miss the experience of dining at Sanchon, or sipping tea at their attached tea house. Run by a former Buddhist monk, this restaurant specialises in vegetarian dishes prepared with ingredients from the mountain valleys and flavoured with subtle herbs and roots. The menu features a perilla seed soup, radish mushroom and red pepper wraps, (seasoned goso, a wild vegetable favoured by monks), as well as a tofu stew and traditional Korean pastries. Traditional folk dancing every evening is made more colourful by Nong Ju rice beer or a glass of fruit wine. Reservations recommended.




CUISINE:

Vegetarian


Address:

14 Gwanghun Dong, Jongno-gu, Insadong


Website:

www.sanchon.com
Travel guide by (c) Globe Media Ltd. By its very nature much of the information in this travel guide is subject to change at short notice and travellers are urged to verify information on which they're relying with the relevant authorities. We cannot accept any responsibility for any loss or inconvenience to any person as a result of information contained above.