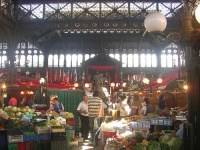 Santiago Shopping
Shopping in Santiago is a mixture of the old and new as bustling craft markets sit in the shadow of brand-new megamall complexes. Santiago is a major shopping destination in Chile, and visitors will find everything from tacky tourist items to high-end local brand names.
There are more than a few shopping malls in Santiago, which are filled with Chilean brands. The air-conditioned malls are popular on hot days, and most have food courts and movies to entertain children while their parents shop. Alto Las Condes and Parque Arauco are the biggest malls in Santiago, with more than one hundred shops in each. Mall Panoramico is a good shopping centre to find mid-range items, and the ''Drugstore'' on Avenida Providencia has a range of funky boutiques. Malls in Santiago are open seven days a week
For tourists looking more for handicrafts than haute couture, Santiago has a few good craft markets that are great places to visit on a nice day. Patio Bellavista has a wealth of locally-made goods, and are good places to find Santiago souvenirs, as is Pueblito de los Dominicos, which is made up of small stores located inside an attractive old convent. Another market that offers cheap Santiago souvenirs is the Feria Santa Lucía at Cerro Santa Lucía.
Popular Santiago souvenirs include jewellery with locally-mined lapis lazuli, folk art, and alpaca scarves. Chilean wine from the region around Santiago is also a good souvenir, particularly from well-regarded wineries like Casa Julia and EQ.
Value-added tax (VAT) in Chile is 19 percent, and there is currently no refund scheme for international tourists.