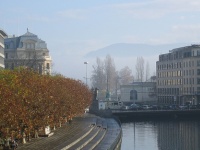 Geneva Overview
With a pleasant setting, green parks, colourful gardens and lakeside promenades, Geneva is considered one of the healthiest places to live in the world. The city sits astride the River Rhône, where it streams into Lake Geneva, and is set against a dramatic backdrop of mountains. At the lake's south shore the Jet d'Eau shoots water 460ft (140m) into the sky from the end of a pier - the city's landmark attraction and Europe's most powerful fountain.
Undoubtedly Switzerland's most cosmopolitan city, Geneva's reputation for religious and political tolerance dates back more than five hundred years. In the 16th century the city spawned the religious teachings of John Calvin, and Geneva was where Lenin spent his 'years of recreation'. Little of their Puritanism is left today - stately homes line the banks of the lake, overlooking an armada of luxury yachts. Jewels and designer labels spill out of exclusive boutiques and into chauffer-driven limousines that glide down palatial avenues.
As well as a host of museums and fine galleries, Geneva has a lively cultural calendar. Most notable is the celebration of l'Escalade in December, which involves costumed and torch-lit processions through the town, and the consumption of sickly amounts of chocolate and marzipan.
Geneva is a gateway to Switzerland's luxury ski resorts, an important banking centre and home to thousands of international delegates and diplomats. Among the many international organisations based in the city are the United Nations and the International Red Cross.