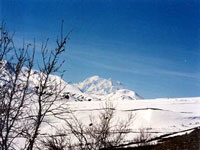 Anchorage Overview
Alaska's largest city is the hub of the state, and its central position, mild temperatures and outstanding transport system to and from the rest of the country has made it an important destination for travellers. Perched on the edge of a vast, keenly beautiful wilderness, Anchorage is encompassed in scenic splendour, surrounded by mountains, forest, rivers and tundra. Just a short drive away in any direction offers an abundant variety of wilderness experiences.
The city started out in 1915 as a tent camp for the workers on the Alaska Railroad, and with the later discovery of oil at Prudhoe Bay and the construction of the trans-Alaska pipeline, Anchorage's development was fast and furious. Today the sprawling city is full of life but lacking in charm. Alaskans living outside the city complain that Anchorage isn't really Alaska, it is a city on the outskirts of Alaska, and the common joke often heard is 'Anchorage isn't Alaska, but you can see it from there'.
As a cosmopolitan urban sprawl it has similarities with other small American cities, yet it is uniquely Alaskan. Its conservative, transient character is due in part to the fact that many of its residents are from other parts of America, working for a few years and then moving on. The rest of the population is a muddle of Alaskan Native people, oil workers, gold seekers, loggers and fishermen, together with the moose and occasional bear that wander into town. There are some excellent restaurants, museums, a Native cultural centre and shops that, together with its setting, make it a pleasant stopover.