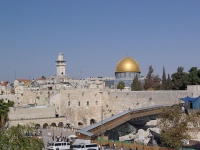 Jerusalem Overview
Israel's capital city occupies an important place in the hearts and minds of Muslims, Christians and Jews alike. The walled section comprising the Old City of Jerusalem is an area rich in the historical traditions of these three religions. It is home to the Church of the Holy Sepulchre, the Dome of the Rock and the Al Aksa Mosque on the Temple Mount. The Western Wall provides the focal point for Jewish worship and stands as an enduring symbol of the Jewish homeland.
The Old City can be accessed through seven of the eight gates punctuating the ancient walls enveloping it. Within these walls are the separate quarters of the Muslim, Jewish, Christian and Armenian communities. A dazzling array of merchandise can be purchased from the lively Arab (open-air market), and meandering through the narrow corridors and cobbled pavements of the ancient centre inevitably provides a feast of sensations.
For an orientation of the Old City it is best to set off along the Ramparts Walk, originally designed for watchmen, or to climb the Citadel of David for a panoramic vista of the eternally fascinating city of Jerusalem.