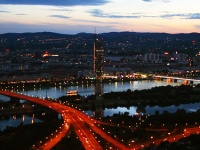 Best Restaurants in Vienna
Austria''s cuisine is a rich stew of historic, international influences. Many local chefs combine traditional Viennese dishes with the principles of nouvelle cuisine, creating Neue Wiener K??che (New Viennese cuisine). Vienna is well known for its pastries, and other famous dishes include Wiener Schnitzel, Gulasch and (boiled beef with apple and horseradish sauce). The best desserts to try are Sachertorte cake and (apple strudel).
Caf?© Central is one of the most famous caf?©s in the world with its clientele having included luminaries such as Lenin and Trotsky. The queen of Vienna''s formal restaurant, Altwienerhof, is fittingly situated near the Sch?¶nbrunn Palace and serves some royally delectable dishes. Next door to St Stephen''s Cathedral, Figlmuller''s is reputed to serve the best schnitzel in Vienna. Do & Co, one of the city''s favourite venues, offers not only great views from the seventh floor of the Haas Haus, but also serves superb Viennese, Asian and South American cuisine.
DO & CO
Located on the seventh floor of the Haas Haus, Do & Co is the flagship restaurant of Do & Co International Hotel and offers the best views in town, situated opposite St Stephan's Cathedral. The cuisine is international, featuring mainly modern Viennese and Asian fare, but the extensive menu also covers South America and wider Europe. The menu covers 'Tastes of the World', 'Beef & Co', 'Kebab, Wok and Curries', 'Catch of the Day', 'Austrian Classics', and different kinds of sushi. Reservations are highly recommended, and dress is smart. Open daily from 12pm.




CUISINE:

International


Address:

Stephansplatz 12


Website:

www.doco.com
Steirereck
Meaning 'corner of Styria' (a state in south east Austria), Steirereck is one of Austria's top restaurants featuring seasonal Austrian cuisine with a Styrian emphasis. The menu is small and changes regularly according to the freshest ingredients available, but everything is superbly prepared. Meals begin with freshly baked bread, and close with a selection of more than 60 cheeses from the restaurant's own cellar. Seasonal offerings might include gooseliver Steirereck, Styrian roast beef, lobster, lamb with crepes, rabbit with risotto or smoked monkfish. Dress is smart and reservations are recommended. Open Monday to Friday.




CUISINE:

Local


Address:

Rasumofskygasse 2


Website:

steirereck.at
Wollzeile
When in Vienna do as the Viennese do and indulge in Wiener Schnitzel, the delicacy most associated with the romantic city. Reputed to serve the biggest and best schnitzel is Wollzeile, next door to St Stephen's Cathedral, a wine tavern where the long tables are always packed with hungry customers sampling the golden-brown schnitzels, that overhang the plate. Open daily for lunch and dinner. Wollzeile is closed during August.




CUISINE:

Local


Address:

Wollzeile 5 (St Stephansplatz)


Website:

www.figlmuller.at
Motto
This funky restaurant is stylish to the extreme, with quirky red and black decor and en eclectic menu that ranges from sushi to spaghetti. The restaurant expands in the summer with tables set up in the attractive garden. Motto has a reputation as a gay-friendly restaurant, and is open late into the night, closing at 4am.




CUISINE:

Fusion


STYLE:

Trendy


Address:

Schonbrunnerstr 30


Website:

www.motto.at
Restaurant Imperial
The warm, cosy and classic style of the Restaurant Imperial lends itself perfectly to a stylish dining affair. The d?©cor is tasteful and evokes a feeling of old-world charm while chef Hans Juergen Schauer creates delectable dishes such as fillet of turbot with goose liver and fillet of veal, or the old favourite, Wiener Schnitzel. Open daily for dinner. Reservations essential.




CUISINE:

International


STYLE:

Business


Address:

K?¤rntner Ring 16


Website:

www.hotelimperialvienna.com/restaurant
Caf?© Demel
Arguably the best of Vienna's 300-odd traditional coffee shops, offering their legendary confections and pastries, is the Caf?© Demel. The caf?© is best known for its original Sachertorte (chocolate frosted cream cake), but the rest of the range of sweet delights on offer is just as delectable. Demel also serves a large range of sandwiches and, of course, really good coffee. Open daily from 10am to 7pm. Vienna's other renowned coffee shop is Caf?© Central near the Hofburg Palace, where Lenin and Totsky once met regularly.




CUISINE:

Caf?©


Address:

Kohlmarkt 14


Website:

www.demel.at
Wiener Rathauskeller
The venue may be Gothic, sunk into the cellars beneath the historic town hall, but the style, atmosphere and cuisine are very up to date. This spacious eatery features various rooms furnished in different styles and can handle up to 1,100 people. The food can be described as 'modern Viennese', offering fare such as goulash, Wiener Schnitzel and apple strudel. Open daily for lunch and dinner.




CUISINE:

Local


Address:

Rathausplatz 1


Website:

www.wiener-rathauskeller.at
Altwienerhof
The queen of Vienna's formal restaurants is Altwienerhof, fittingly to be found near the Sch?¶nbrunn Palace. The Kellner family have run the establishment since 1928, and offer a seasonally changing menu of French-based cuisine with delicate flavours and highest-quality ingredients. Pride of the Altwienerhof is its award-winning vast wine cellar, containing more than 20,000 bottles. Open daily, except Sundays, for lunch and dinner. Jacket and tie essential.




CUISINE:

French


Address:

Herklotzgasse 6


Website:

www.altwienerhof.com
Caf?© Central
Caf?© Central is probably one of the most famous cafes in the world due to its high profile clientele during the history of Vienna, which included famous artists, writers and intellectuals such as Lenin and Trotsky. The grand, cathedral-like setting with its marble pillared hall and soaring ceiling is a fine setting for the excellent coffee and Apfelstrudel that they serve up, along with an assortment of other desserts and pastries for tea. Light lunches are served and the menu includes a variety of provincial dishes and Viennese specialties as well as salads, soups, sandwiches and vegetarian dishes. Piano music plays daily from 5pm. Open daily from 10am.




CUISINE:

Caf?©


Address:

Herrengasse 14


Website:

www.palaisevents.at
Hietzinger Br?¤u
This award-winning restaurant stays true to its traditional values and is somewhat of an institution when it comes to Viennese steak restaurants. The tasteful d?©cor and impeccable cuisine ensure that this eatery stays within the top ranks of Vienna's dining scene. The (boiled beef) is without a doubt the most famous choice of beef and is the flagship dish of this restaurant. The beef is served in the traditional manner - in beef soup, with apple and horseradish, roast potatoes and chive sauce. Open daily for lunch and dinner. Reservations recommended.




CUISINE:

Local


STYLE:

Business


Address:

1130 Wien, Auhofstra??e 1


Website:

www.plachutta.at
Travel guide by (c) Globe Media Ltd. By its very nature much of the information in this travel guide is subject to change at short notice and travellers are urged to verify information on which they're relying with the relevant authorities. We cannot accept any responsibility for any loss or inconvenience to any person as a result of information contained above.