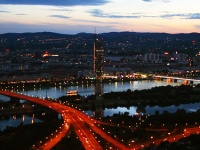 Best Restaurants in Vienna
Austria''s cuisine is a rich stew of historic, international influences. Many local chefs combine traditional Viennese dishes with the principles of nouvelle cuisine, creating Neue Wiener Küche (New Viennese cuisine). Vienna is well known for its pastries, and other famous dishes include Wiener Schnitzel, Gulasch and (boiled beef with apple and horseradish sauce). The best desserts to try are Sachertorte cake and (apple strudel).
Café Central is one of the most famous cafés in the world with its clientele having included luminaries such as Lenin and Trotsky. The queen of Vienna''s formal restaurant, Altwienerhof, is fittingly situated near the Schönbrunn Palace and serves some royally delectable dishes. Next door to St Stephen''s Cathedral, Figlmuller''s is reputed to serve the best schnitzel in Vienna. Do & Co, one of the city''s favourite venues, offers not only great views from the seventh floor of the Haas Haus, but also serves superb Viennese, Asian and South American cuisine.