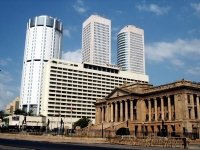 Colombo Overview
A pretty metropolis sounds like a contradiction in terms, but it is a description that fits Colombo, Sri Lanka's largest city, a beehive of commotion with more than a million inhabitants.
Frenetic traffic fills the main Galle Road that runs through the city from the district of Fort, parallel with the coast, connecting all the suburban enclaves down to the town of Galle in the south. Fort is the historic centre of the city that has become the main business district, filled with shops, office blocks and government buildings. It is here that most of the gracious old buildings from the Dutch, Portuguese and British colonial eras are to be seen. East of Fort is the exciting Pettah bazaar district, where the streets are crammed with shops and stalls selling all manner of goods from vegetables to gemstones. Further south the city's seafront is known as Galle Face Green, where locals enjoy games of cricket, fly kites or take evening strolls watching the sunset. Beyond this lies Colombo's smart neighbourhood, Cinammon Gardens, boasting elegant mansions, tree-lined streets and the lovely Viharamaha Devi Park. The closest beach resort to the city is Mount Lavinia, about six miles (10km) from the city.
Main tourist attractions include museums, historic buildings and churches, and beautiful parks. What is especially enjoyable is the variety of cuisine that can be sampled at any one of the city's plentiful bars, restaurants, sidewalk cafes and kiosks.