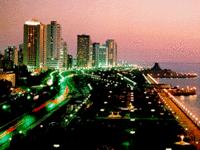 Best Restaurants in Abu Dhabi
The city has a reputation as a cosmopolitan melting pot, and Abu Dhabi''s restaurants are no exception to this rule. A wide variety of choices is available to suit all palates, ranging from cheap and cheerful curry and Chinese takeout to five-star French restaurants. One great thing about the restaurants in Abu Dhabi is that diners need not go out to enjoy them; nearly every establishment will deliver, usually for free.
Dining out in Abu Dhabi becomes more complicated during the month of Ramadan. As Muslims are fasting during daylight hours, restaurants are obligated by law to close at this time. Fines are given to anyone eating or drinking anything (even water) in public. Some large hotels catering to Westerners will keep one restaurant open for non-Muslim customers however, and it''s a good idea to check with your hotel on arrival.
Many high-end restaurants in Abu Dhabi add a service charge of around 10 percent to the bill, while hotel restaurants may also add a tourism levy of 6 percent. These charges are sometimes included in menu prices. Tips of 10 percent are customary for waiters.
Travellers to the UAE should keep in mind strict regulations regarding the consumption of alcohol, meaning the only restaurants that are licensed are in hotels and private clubs. Some restaurants are segregated into ''family sections'' where men and women must sit separately.