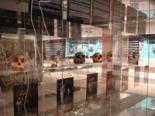 Cradle of Humankind and Maropeng Visitor Centre
The Cradle of Humankind is a UNESCO World Heritage Site and contains a complex of dolimitic limestone caves, including the Sterkfontein Caves, where the fossil, (nicknamed Mrs. Ples) was found in 1947 by Dr Robert Broom and John Robinson. 'Mrs Ples' is estimated to be between 2.6 and 2.8 million years old and ranks high on the long list of australopithecine discoveries for which Sterkfontein is now famous. At present only the Sterkfontein Caves and the Wonder Cave are open to the public. The Maropeng Visitor Centre is a stirring, world-class exhibition space, focusing on the development of humans and our ancestors and evolution over the past few million years.


Website: www.maropeng.co.za
Telephone: 011 956 6342 (S
Opening Time: Daily from 9am to 5pm
Admission: R115. R190 combination ticket (Maropeng and Sterkfontein Caves). Concession available.