Johannesburg
Travel Guide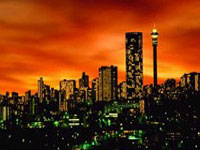 Best Restaurants in Johannesburg
Johannesburg''s role as the economic hub of South Africa, if not the entire continent, has attracted businessmen and investors from all over the world and a wealth of restaurants to cater to them. Johannesburg restaurants offer a wide range of cuisine, with ethnic African fare and traditional Afrikaans dishes, as well as international options to satisfy every craving imaginable. Eating out in Johannesburg offers not only variety in cuisine ethnicity but price and quality too, with a range of up-market, casual, fast-food and street vendor options. Up-market Johannesburg restaurants, featuring both local and international menus, are located in areas like Rivonia, Sandton, Illovo and Melrose Arch. More casual eateries, such as cafés and steakhouses, can be found in Parktown North and Benoni. There are fast-food outlets throughout the city, as well as various local street vendors selling savoury pies, (sausage) rolls and flame-grilled (maize) cobs. The more adventurous diners could venture out to Soweto to dine at one of its numerous (communal bar/canteen) venues. This huge variety of Johannesburg restaurants makes eating out in the ''City of Gold'' a truly rewarding experience. Many restaurants are closed on Mondays, and reservations are recommended.
Cool Runnings
With a decidedly Rastafarian theme, this vibey Jamaican-style café offers a good selection of cheap Caribbean food in huge portions. Students and young professionals frequent this spot to wash down Jamaican schwarma's, curries and stir fries with potent shots of liquor and exotic cocktails. Hookah pipes (Okka pipes or bubblies), with a variety of flavoured tobaccos, are also on offer. Open daily for lunch and dinner.




CUISINE:

Café


Address:

Fourways, Melville, Benoni


Website:

www.coolrunnings.co.za
Browns of Rivonia
Set in one of Johannesburg's most affluent suburbs, Browns of Rivonia offers a truly upmarket, fine dining experience. Outside seating is available on the veranda for those balmy summer evenings, and inside the restaurant there is a large, neat dining area. The food is of the highest quality, especially the roast duck with a Drambuie and orange glaze. The restaurant offers a separate menu for functions and for Sunday lunches. Closed on Saturday for lunch and reservations recommended.




CUISINE:

International


Address:

21 Wessels Road, Rivonia


Website:

www.browns.co.za
Montego Bay
With excellent service and a comfortable setting, this trendy restaurant boasts a variety of delicious seafood, as well as some excellent international cuisine. Menu favourites include the signature Montego Bay platter with baby crayfish, langoustines (Norwegian lobsters), prawns and calamari, or perhaps something from the world-famous fresh oyster and sushi bar. Open daily for lunch and dinner, reservations recommended.




CUISINE:

Seafood


Address:

Shop 31, Nelson Mandela Square, Rivonia Road, Sandton


Website:

www.montegobay.co.za
Wombles
Reminiscent of its 1980s predecessor in Harare (Zimbabwe), Wombles Steakhouse has white linen and candlelit décor, giving it a relaxed and romantic, colonial-style atmosphere. This is further enhanced by the smiling, khaki-clad staff. The main menu boasts steaks to suit all appetites and tastes, served with fresh vegetables and a choice of potato dishes. Open Monday to Friday for lunch and dinner, with dinner also served on Saturdays. Reservations recommended.




CUISINE:

Steakhouse


Address:

17 3rd Avenue, Parktown North


Website:

www.wombles.co.za
Turtle Creek
The Turtle Creek wine bar and restaurant in Sandton's Wierda Valley offers diners a relaxed atmosphere and an exquisite Mediterranean menu. Favourites include the Mauritian chicken and prawn curry with rice an onion sambal, as well as Moroccan-style lamb shank in red wine. The terrace dining area is beautifully shaded by large oak trees, a very popular spot! Open Monday to Saturday for lunch and dinner, with lunch on Sundays. Reservations recommended.




CUISINE:

Mediterranean


Address:

58 Wierda Road, Wierda Valley
Linger Longer
Originally established as a tearoom in 1961, Linger Longer has developed into an elegant restaurant while retaining its old-world charm and relaxed atmosphere. Diners here can feast on delicious international and South African cuisine such as lobster bisque, ostrich khibi with roasted peppers or Asian-style duckling. Open for lunch and dinner, Monday to Saturday; reservations recommended.




CUISINE:

International


Address:

58 Wierda Road West, Sandton
Al Dente
Al Dente is popular for its warm and casual ambience, excellent Italian cuisine and the genial presence of its owner, Federico, who is always close at hand to advise on the menu specials. The food here is authentically Italian and homemade with an extensive menu of pastas and pizzas, as well as specialities such as lightly roasted rump steak with garlic and rosemary. Reservations are recommended. Open for lunch and dinner Monday to Friday, dinner only on Saturdays and lunch only on Sundays.




CUISINE:

Italian


Address:

173 Rochester Place, Rivonia Road, Morningside


Website:

www.aldente.co.za
Moyo
This restaurant takes up five floors, decorated with a combination of modern African designs. Traditionally attired staff serve exotic cuisine, and live African music adds a funky vibe. The menu is varied with dishes from around the continent, such as fragrant North African stews, East African fish curries and huge Mozambique prawns. The unusual African desserts, like sweet potato and chocolate pudding, are not to be missed! Booking is essential, open daily for lunch and dinner.




CUISINE:

African


Address:

5 Melrose Square, Melrose Arch


Website:

www.moyo.co.za
Gramadoelas
For over 30 years celebrities, heads of state and royalty have graced Gramadoelas to sample its traditional South African and Cape cuisine, as well as other African fare. The Cape Malay-spiced bobotie, melktert and malva pudding are renown. Game meat, such as crocodile tail and ostrich steak, is also on the menu. The more adventurous can try Hillary Clinton and Nelson Mandela's favourites: mopani worms and mogodu (black tripe and wild African spinach stew), respectively. Closed on Sunday and no lunch on Mondays. Reservations recommended.




CUISINE:

Local


Address:

Market Theatre Complex, Bree Street, Newtown


Website:

www.gramadoelas.co.za
Travel guide by (c) Globe Media Ltd. By its very nature much of the information in this travel guide is subject to change at short notice and travellers are urged to verify information on which they're relying with the relevant authorities. We cannot accept any responsibility for any loss or inconvenience to any person as a result of information contained above.