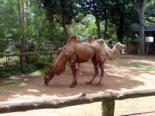 Colombo Zoological Gardens
Colombo's zoo has a fine collection of animals, birds, reptiles and fish from all over the world, but in particular showcases the fauna of the island. The complex includes an aquarium, which is the only one of its kind in Asia displaying more than 500 varieties of aquatic life. There is also a walk-through aviary, reptile enclosure and butterfly park. One of the most popular attractions at the zoo is the daily elephant show, which takes place at 5.15pm.


Address: In Dehiwala, south of the city
Website: www.colombozoo.gov.lk
Telephone: (0)11 271 2751
Opening Time: Daily 8:30am-6pm.
Admission: LKR 2,000 (adults), LKR 1,000 (children).