Hong Kong hotels With so much to do and see in Hong Kong, it's easy to find the right hotel.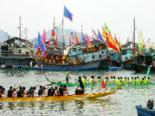 Dragon Boat Festival (Tuen Ng)
The Dragon Boat festival commemorates the death of a national hero, Qu Yuan, who drowned himself in protest against the corrupt rulers of the 3rd century. Legend has it that the villagers threw rice dumplings into the river and beat drums to scare the fish away from his body in an attempt to rescue him. The main festival activities today bring to mind the event, as rice dumplings are eaten and teams of local and international racers compete in fast and furious dragon boat races to the poundin
Event Date: 23 June 2012
Event Time: 9am to 5pm
Venue: Shing Mun River, New Territories
Website: www.discoverhongkong.com/eng/heritage/festivals
Travel guide by (c) Globe Media Ltd. By its very nature much of the information in this travel guide is subject to change at short notice and travellers are urged to verify information on which they're relying with the relevant authorities. We cannot accept any responsibility for any loss or inconvenience to any person as a result of information contained above.