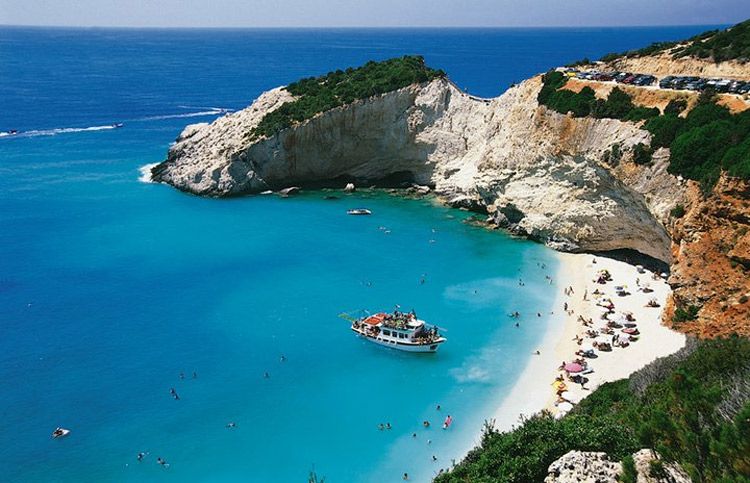 Photo Courtesy of Visit Greece
White powder sand, secluded enclaves, staggering cliffs, crystal clear water, and swaying palms are just some of the reasons travelers flock to the beaches winding around the European coastline. Whether you want to surf, build sandcastles with the kids, ride jet skis, snorkel among the marine life, or merely sleep in solitude, there is a beach waiting for you in your favorite destination across the Atlantic. We've picked five from the long list of impressive places to dig your feet in the sand and bask in nature's beauty on your next
luxury vacation in Europe
.
If your European getaway is taking you to Turkey, make sure to spend a day at Olu Deniz (Dead Sea) beach and see why it is consistently at the top of leading travel publications' best beaches in Europe lists. The most famous on its Mediterranean coastline, Olu Deniz is a literal blue lagoon with gorgeous shades of green and turquoise water and creamy white sand surrounded by the mountains and cliffs of Fethiye. Entry into the lagoon requires a fee of 5₤ (about $3 per person), a small price to pay to be enveloped by such tranquility. You can grab a cold drink and light snack at one of the beach bars, rent canoes or kayaks, snorkel or swim in the calm waters, or just lay back and take in the stunning scenery—you might even run into some endangered loggerhead sea turtles crawling by on their way for a dip.
Photo courtesy of Visit Greece
While there are perhaps hundreds of beaches in Greece, there is one that takes you far away from the crowds—so far away that it's only accessible by boat from the shores of Skiáthos. On the northeastern most part of the island is Lalária beach, boasting clear, clean water and large white rock formations including the picturesque hollow rock. Walking along the sand can prove difficult without shoes, as it's mostly composed of small pebbles instead of smooth sand (the word lalaria means pebble in Greek) and there are not many places other than under the arch of the hollow rock to get some shade if you need it. But with scenery that looks as if it jumped right off a postcard, who could worry about such minor details?
Photo credit: Freddy DENEUX
Instead of heading for the glitz and glam of the South of France, allow the pristine sand and surf of Corsica to lure you in. Over 600 miles of coastline ensures any beach-goer can find their ideal spot to swim, dive, snorkel, stroll or simply lay back and relax among the breathtaking scenery. Porto-Vecchio, in the southeast side of the island, is home to Palombaggia Beach, a favorite among locals and tourists for its crystal clear water and soft, powdery sand lined with parasol pines, red rocks, and views of Ceribcale archipelago in the distance. Because of its popularity, the mile-long stretch of beach can get extremely crowded at the narrow northern end but you can escape the masses by jet skiing, windsurfing, taking a boat ride to nearby islands, or posting up at one of the many bars or restaurants.
Photo credit: Filipe Rocha
Sparkling blue water, dramatic, multi-colored cliffs, soft golden sand and diverse rock formations make up Praia Gale, located in Portugal's southern Algarve region in Albufeira. Sun worshipers can rent lounge chairs and umbrellas or bring their own as this beach has plenty of room for everyone to stake their claim somewhere in the sand. This is a great place to bring the kids for a fun day exploring the caves, splashing in tide pools, and digging for sand crabs while adults can relax nearby. While there are three dining venues along Praia Gale, many walk along the shore as far as Amerçao de Pera to the many other bars and restaurants along the way, to simply take in the picturesque landscape, or even to catch the sun setting below the cliffs.
Photo credit: Ian Tragen/Shutterstock
Benidorm, Spain offers four miles of beautiful beaches along the Mediterranean coastline. If you're looking for a calmer, less hectic experience, Poniente Beach is preferred over its neighboring Levante Beach. Poniente Beach is known for being extremely clean and well maintained. In the evening, salsa dancers and musicians come down to entertain those still enjoying the serene surroundings. A long promenade just off the beach is lined with apartment buildings, hotels, cafes, shops and bars, so taking a break from the hot sun or going for a leisurely stroll is an easy venture. Head toward Levante Beach to see some amazing sand sculptures of scenes like the Last Supper or a horse and cowboy.
See our picks for:
10 Top Beach Destination Hotels
Best Beach Hotels in San Diego