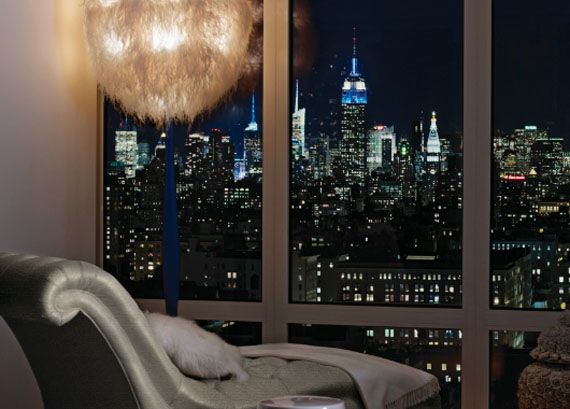 Photos Courtesy of Mondrian Soho and Nolitan Hotels
Recession be damned! In the past two years, an unprecedented number of hotels have opened in New York City; from the Fashion 26 to the Crosby Street to
The James
. But no two hotels have garnered more interest or pre-opening press than the Mondrian Soho and the Nolitan.
Maybe it's the numerous construction delays (both hotels were slated to open multiple times in 2010) but I tend to think it's because the Mondrian and the Nolitan feature unique designs, making the two buildings must-see spots for visitors.

The Mondrian Soho officially opens its doors March 1. It's the the Morgans Hotel Group's third Mondrian hotel in the country. While most art-history buffs would think Dutch painter Piet Mondrian inspired the design of the hotel, they would be wrong. Instead, its celebrated French director Jean Cocteau's 1946 film La Belle et la Bête that serves as inspiration for the building at 9 Crosby Street.

It's as if you've stepped into a modern fairy tale world. The 270-room hotel-which includes four expansive suites, all with terraces and a sweeping 25th floor Penthouse-features marble foyers, 10-foot ceilings, massive windows, curved mirrors, chrome desks and nightstands and bespoke furnishings. Rich hues dominate the lobby but most rooms offer a romantic blue and white palette. Opening rates start at $259.


The Nolitan is in another realm entirely. Opening in mid-March, the 55-room hotel is situated on a busy stretch of Kenmare street, straddling Little Italy and Nolita. The hotel separates its rooms into eight different categories. Neighborhood rooms are the smallest and occupy the lower floors. Cityscape rooms are on higher floors and Corner rooms have balconies and views of downtown Manhattan and Brooklyn.

The Nolitan Suites are larger, with balconies and bathrooms featuring deep soaking tubs. All rooms are intimate and inviting but minimalist and mid-century modern in design. They feature hardwood floors, high ceilings, curved chairs, large beds with wooden storage units, Corian bathrooms with Red Flower bath products and views of the downtown cityscape. Opening rates start at $255.

Mondrian SoHo
9 Crosby Street
New York, NY 10013
212.389.1000
www.mondriansoho.com

The Nolitan Hotel
30 Kenmare Street
New York, NY 10012
212.925.2555
nolitanhotel.com



.