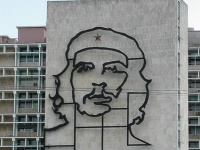 Overview:
Cuba can portray itself as the archetypal image of a Caribbean island with its sandy, palm-fringed shores washed by crystal-clear waters and cooled by breezes carrying the scent of frangipani, mango and guava. But Cuba has so much more to offer those who venture away from its beaches to the towns and cities and their Spanish colonial architecture and grand plazas, where classic automobiles labour along streets and country roads, and the hip-swaying sounds of salsa music fill the night air. Together with cigar smoke and rum cocktails, baseball, and everywhere visual references of the 1959 revolution, these picture-postcard portraits of Cuba tell a more complete tale of the largest island in the Caribbean.
Christopher Columbus discovered Cuba on his way back to Spain after his second voyage to the New World in 1492 and was the first European to remark on its beauty. Today, the island state is starting to exploit its glorious attractions and offers visitors an alternative Caribbean holiday.
Cuba is so large that it allegedly confused Columbus, who thought he had discovered a continent and not an island. It sits at the mouth of the Gulf of Mexico; the main island is 746 miles (1,200km) long with an irregular coastline that offers hundreds of bays and beaches. The years of political isolation have protected Cuba from mass tourism; the main towns and villages retain a crumbling colonial charm and are generally devoid of resorts that blight some of its neighbouring islands.
With its history and great choice of natural attractions Cuba has much to offer. But most visitors agree that Cuba is a country so individual and extraordinary, that to be truly understood and appreciated it has to be experienced in person.