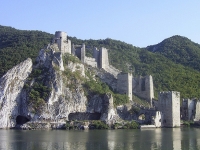 Overview:
Landlocked by turbulent eastern European countries and containing the notorious United Nations-administered hotspot of Kosovo, the newly independent Republic of Serbia (formerly part of Yugoslavia) has seemingly little to draw tourists. In fact, anyone planning to travel to Serbia will find it difficult to locate an up-to-date guide to the country or any information on what to expect beyond the confines of the capital city, Belgrade. The city itself, still scarred with the devastation of a long civil war, is lauded in travel literature mainly for its vibrant nightlife, although, being one of Europe's most ancient capitals, it has plenty of interest to offer sight-seers.
Those who are looking for a 'off-the-beaten track' explorative holiday will find Serbia extremely welcoming. The country boasts beautiful national parks, spa resorts and some of the best skiing in Europe during the winter months. Contained in the landscape of this verdant country are alpine meadows, impenetrable forests, glittering limestone caves, remote monasteries, mountain lakes, hot springs and fields of wild herbs.
Definitely not to be missed in Serbia is the magnificent Djerdap National Park, stretching along the right bank of the Danube River between Golubackigrad and the Sip Dam. The Djerdap Gorge is one of Europe's most spectacular geographic features.
During the winter months those in the know head for the mountains along the Ibar Highway, to the snow-blanketed peaks around the village of Kopaonik which is fast developing a reputation as being one of Europe's best, cheapest and cosiest ski resorts, ideal for beginners and intermediates, also featuring the Josanicka Banja spa.
Serbia may have been a 'no-go' area because of civil and ethnic warring for several generations, and parts of it remain unsafe for travellers, but there is plenty that is now open to be re-discovered in this Slavic enclave.