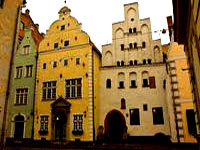 Overview:
Latvia has a history of occupation, surviving two World Wars and 50 years behind the Iron Curtain, but the Latvia of today is rapidly pushing aside the years of decline, neglect and loss of identity suffered during the Russian occupation, and eagerly rebuilding a nation that is entering one of the most promising periods of its history.
A small, flat country nestled between its neighbours Estonia and Lithuania on the Baltic Sea, Latvia is a country whose picturesque towns and ancient cities are set within a landscape of plains, lakes, forests and river valleys, and where fishing villages interrupt the dramatic coastline that is interspersed with white sandy beaches. The country has numerous manor houses, medieval castles, photogenic palaces and ruins; and Riga, the beautiful capital, is rich in history and culture, boasting the best concentration of Art Nouveau buildings in Europe. The city also contains a diversity of other architectural styles, and has been declared a UNESCO World Heritage Site. The Latvian capital is an obvious tourist destination and is the largest city in the Baltic States, a major port that is home to almost half the country's population. Nearby, the Baltic health and recreation resort of Jurmala doubles its population during the summer months as a popular holiday destination, with its sandy beaches, healing waters, mud baths and quaint wooden houses.
Historical tourist attractions in Latvia include the ancient cities of Valmiera, Cçsis and Limbaþi in the northern region, which were once members of the Hanseatic League; the picturesque cultural towns of the Abava River Valley and the villages of the ancient Liv people in the south; the Rundale Palace, a popular sight along with the spectacular Baroque palace at Jelgava in the central region of Zemgale; and the scenic Tervete forest, boasting the oldest and tallest pine trees in Latvia.
Those keen on fun outdoor activities will enjoy the natural surroundings in the Latgale region (referred to as the Land of Blue Lakes); the coastal landscape of the Kurzeme region, where deserted beaches stretch for miles; and the coastline and hilly scenery of the northern Vidzeme region, which also is home to Sigulda, the country's downhill skiing area.